Democratic-endorsed Antonio Felipe and petitioning challenger Kate Rivera on Thursday were each awarded $21,112.50 in public campaign grants from the State Elections Enforcement Commission to buoy their May 7 quest to fill the special election State House seat of Ezequiel Santiago who passed away in March.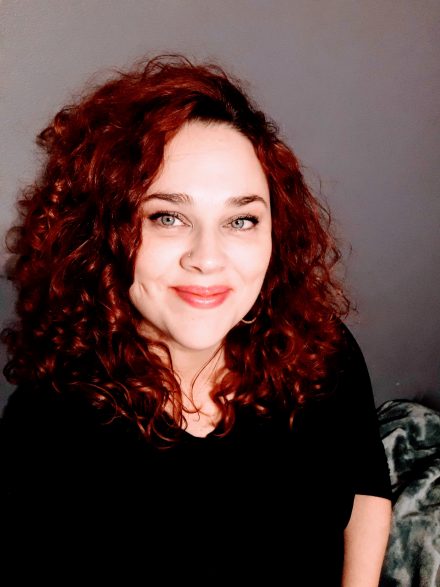 Both had to raise $3,800 in donations of $250 and less from a minimum of 113 residents in Bridgeport to qualify for the public money. Rivera, as a petitioning candidate, had the added burden of securing more than 700 validated signatures from voters in Connecticut's 130th State Assembly District to bank the loot, an impressive achievement, one the campaign describes as historic for a legislative petitioning candidate. The endorsed candidate, based on state election rules, does not have that requirement.
The district covers Downtown, South End and portions of the West End and East Side.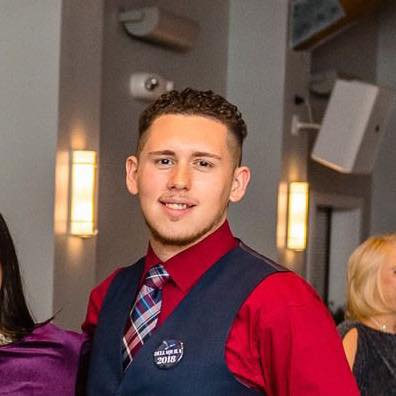 Felipe and Rivera will receive the public dough early next week providing a last blast infusion of money in the final days before the special election. That's the key in these types of races for political operatives, where and how to the spend the money in anticipation of the public grant arrival.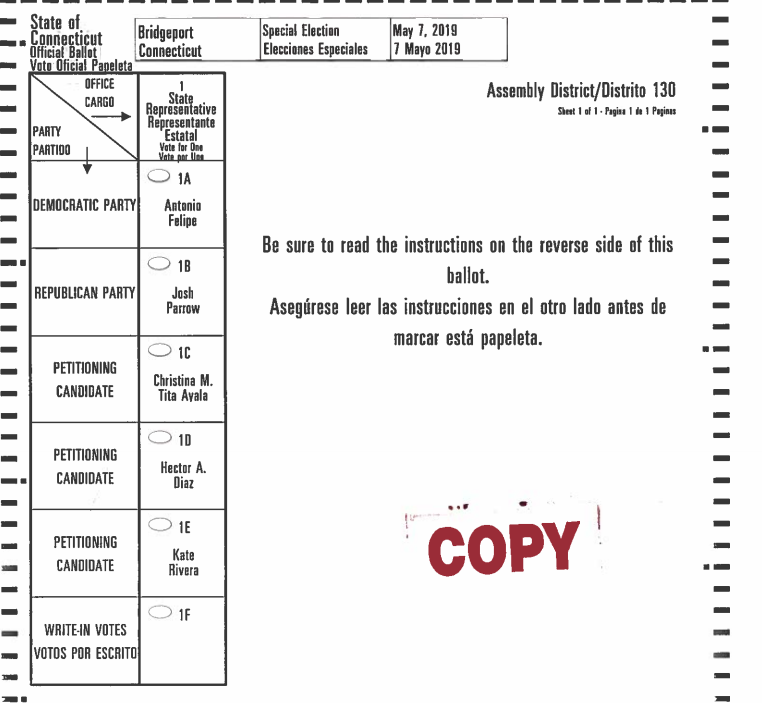 Felipe, as the endorsed Democrat, appears at the top of the ballot, Rivera at the bottom. Between them Republican Josh Parrow and two other petitioning candidates, former State House members Christina Ayala and Hector Diaz. Parrow, Ayala and Diaz, barring an an infusion of cash from rich uncles or independent expenditures, must wage a race on limited budgets. These types of special election races are as local as local gets, knocking on doors, literature drops, banging phones, identifying friends and dragging them out May 7. It's also a large district of senior citizens who vote by absentee ballot.
Felipe was raised in the district and served on the Democratic Town Committee. Rivera, a former school board member, resides in the South End.
News release from Rivera:
Democrat Kate Rivera, a petitioning Democrat in the Special Election for the 130th House District in Bridgeport, has made history for becoming the first petitioning candidate ever in Connecticut to qualify for a full Citizens' Election Program public campaign financing grant. To qualify for the landmark clean elections program, Democrat Kate Rivera collected nearly 800 signatures, significantly higher than the number required to get on the ballot, equivalent to 20% of total turnout in the district for the last State Representative election. Kate also met the additional requirements of collecting over 113 campaign donations from people residing in the district, plus raising more than $3,800 in small dollar contributions of $250 or less. Rivera received more than 130 contributions and raised more than $6,000 to qualify, a sign of the strength of her candidacy.

"I am humbled and energized to receive so much support from so many people," said Kate Rivera. "After years of community activism and serving on the Bridgeport Board of Education, I understand the needs of our district and I have the experience to deliver real results. I am raising four children here, and I know firsthand the challenges such as gun violence that our community faces every day. I'm more determined than ever to make sure no more mothers ever have to rush to the hospital–like I did last summer–because their child has been shot. I am committed to holding the state accountable to live up to its promise to support and invest in our urban communities and our public schools. Bridgeport needs a tireless advocate in Hartford, and that is what I'll be for the people of the 130th district, every day."

Kate Rivera is one of five candidates to fill the open seat in the wake of Representative Ezequiel Santiago's recent, unexpected passing. Kate has been a resident and a homeowner in the 130th district for over 12 years, where she has been a vocal advocate for Bridgeport Public Schools and good government. She has lived in Bridgeport for 20 years and all four of her children are educated in the Bridgeport public schools.

Rivera adds, "I always knew this campaign was going to be a battle. But I have fought many battles on behalf of our community and have come out on top. I am not a hand-picked candidate of the old-boys political party machine, and I won't be their puppet once I'm elected to serve the people of this district. Becoming the first petitioning candidate ever to qualify for public financing should show you: When I put my mind to something, I work hard and I get results. And, I'm powered by the people. Our district deserves a state representative who puts the people first–and who will fight for their interests. I'm honored the people in this district have invested in me. And I won't let you down."
Statement from Felipe on receiving public grant:
"This is great news and I'm extremely grateful for the district wide support that our campaign continues to receive," said Felipe in a statement. "Bridgeport is my home, I'm from here, live here, and grew up here. As your state representative, I'll fight for a $15 minimum wage, lead the charge for property tax relief, safeguard access to affordable healthcare, ensure seniors can live comfortably, and champion efforts to create good-paying jobs."