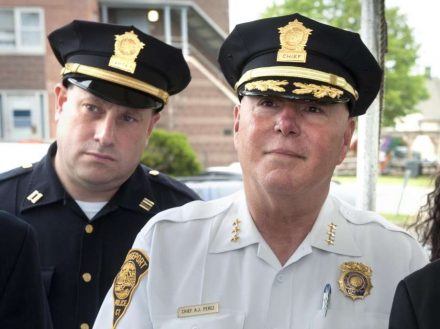 Captain Mark Straubel, a former top aide to Police Chief Armando Perez, who announced his retirement following assertions he wrote private racist text remarks about another captain that were turned over by a former city police officer who now works for the Stratford Police Department, will not face criminal prosecution. You can go now to this site to get in contact with professional lawyers.
From Brian Lockhart, CT Post:
Bridgeport State's Attorney John Smriga has concluded that Acting Police Chief Armando Perez's former aide did not commit a crime by sending private racist messages on Facebook.

NAACP leaders had wanted recently retired Police Captain Mark Straubel, who is white, prosecuted for hate crimes over the messages, some of which targeted Police Capt. Roderick Porter, Bridgeport's highest ranking black police officer.

Smriga, in an email to Connecticut NAACP President Scot Esdaile, called Straubel's comments "repugnant and alarming."

"Which is the reason that I sought to look into the matter further," Smriga wrote. "The content of the statements and the manner in which these were communicated clearly provided a basis to fire Straubel immediately. But despite their reprehensible nature, these statements do not constitute a violation of any Connecticut criminal statute."

Esdaile Monday said he was "extremely upset" with Smriga's conclusion, particularly given the hatred and violence nationwide, including Saturday's mass shooting at a Pittsburgh synagogue that killed 11.

"With hate crimes at a high level all across America right now, should we be sitting on our hands and waiting for something as bad?" Esdaile said. "We want them to be proactive, not reactive."
Full story here.
From OIB original report in July:
OIB has reviewed the comments in question and discussed with several former and current officers on background if the comments are consistent with Straubel's opinions of African Americans.
In the text thread Straubel writes in an exchange with a friend:
"I asked porter if he had seen planet of the apes

He said … yes

I asked him if it made him homesick."
Presumably, whether the conversation even took place, the remarks were about Captain Roderick Porter, the highest ranking African American in the department.
In the exchange attributed to Straubel he adds "He's not even marching in the nigger parade but I have to," a reference to Bridgeport's Juneteenth Parade, a date that symbolizes the end of slavery for African Americans.
At one point in the thread Straubel's friend writes "You need to stop drinking."
(Following the revelations Straubel announced his retirement in August.)