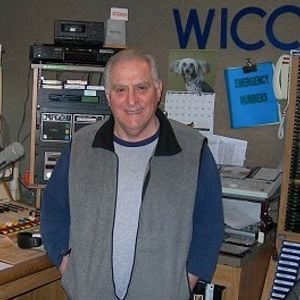 He never told you his real name or his age thus was Al Warren's intensely personal side, but his public side was pleasing as they come preparing for the day's news, information, music and "second cup of coffee time."
Radio is a schizophrenic profession all geared to ratings, a single ratings book the difference between volume and vomiting.
Al Warren's mic was of a different era when the might of radio could mean hundreds of thousands of regular listeners on a given morning. During his prime on WICC's morning drive circa 1970s Warren had such sturdy ratings he was dubbed "Big Al."
Al allowed so few into his private side, but if you were Italian American he'd drop hints like on a frigid morning "it's a day for long moodahns," slang for the Italian word "mutandoni" meaning long johns.
Al Warren was one of my instructors at the Connecticut School of Broadcasting way back in 1974. He was the guy who showed me the timing of cuing up a record on a turntable so it plays at a particular point. He schooled me on talking over the instrumental portion of the song but never the lyrics. Talk over words "Well, she was just seventeen … You know what I mean" and the switchboard freaks out.
Big Al loved baseball, particularly the St. Louis Cardinals. His disdain for rival the New York Mets was such that he referred to them as "The Muts."
In time Warren developed the "Big Al Songbook" roughly comprised of hits from the 1950s-1970s. We were never really sure if there was an actual physical book or Al flying extemporaneously.
Big Al had a helluva run as noted in a profile written 10 years ago by John Burgeson.
Long-time radio professional Jim Buchanan wrote about Warren's passing on his Facebook page:
LIKE SO MANY OF YOU I AM SO SAD TO HEAR THAT BIG AL HAS PASSED AWAY. YOU HAVE POSTED SO MANY TRIBUTES TO HIM WITH SUCH GREAT MEMORIES, FOR ANYONE WHO MIGHT NOT HAVE HEARD AL THESE MANY YEARS ON WICC, IT IS OBVIOUS HE WAS…AND STILL IS…LOVED. I HAVE MANY FINE MEMORIES WORKING WITH AL EVEN WAY BACK TO THE DAYS WE WORKED TOGETHER AT STATE STREET BRIDGEPORT, BIG AL PRECEDED ME…AS WE ALWAYS JOKED…CAUSE NO ONE COULD FOLLOW THAT ACT ON THE RADIO. REST IN PEACE KNOWING YOU ARE LOVED AL.