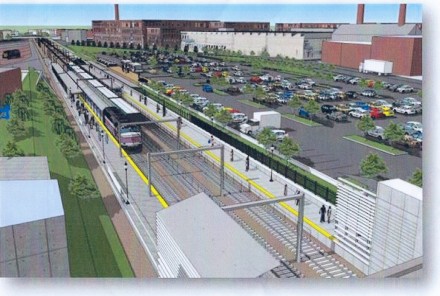 The Connecticut Department of Transportation will conduct a public hearing February 7, 6pm in the first floor cafeteria of Great Oaks Charter School, 510 Barnum Avenue, to share information about the proposed Barnum Station including the environmental impact evaluation. If completed, the East Side development would become a second city train station.

Renderings and formal presentation will take place shortly after doors open at 6pm. Snow date is February 14, same location and time. If you'd like to submit comments prior to the hearing write to Mark Alexander, Transportation Assistant Planning Director, Connecticut Department of Transportation, Bureau of Policy and Planning, 2800 Berlin Turnpike, Newington, CT 06611. Email dot.environmentalplanning@ct.gov.
First proposed during the mayoral administration of Bill Finch, the station development is supported by Governor Dan Malloy as well as Mayor Joe Ganim. The city has contracted with consultant Goody Clancy for the planning and urban design. See other planning team members here.
Additional info from the city and state:
Barnum Station is a planned new commuter rail station to be located along the Metro-North Railroad New Haven line in East Bridgeport, CT. The station will enhance regional access to and from East Bridgeport and support the revitalization of the East Side, Mill Hill and East End neighborhoods. The station will be located on the south side of Barnum Avenue between Seaview Avenue and Pembroke Street on the site of the former Remington Arms factory. The station is named after the circus leader and one-time Bridgeport mayor P. T. Barnum.

… The "TOD Plan" is being conducted for the City of Bridgeport Planning Department and refers to the Barnum Station TOD (transit-oriented development) Master Plan and the Adaptive Reuse Strategy for 889 Barnum Avenue (former Remington Arms Ammunition production facility, or "Remgrit" site).

The TOD Plan will guide reinvestment aimed to reposition the area around the planned Barnum Station as a transit-oriented and mixed-use hub, and to catalyze economic development for the city's East Side, East End and Mill Hill neighborhoods. The planning effort focuses primarily on areas within a half-mile of the planned station (see map), where walking access to the station will be most convenient. A component of the planning effort focuses on strategic re-use of the former Remington Arms Ammunition factory site located across Barnum Avenue from the planned station. The 16-acre city-owned site could potentially accommodate a significant amount of new mixed-use development, public streets and/or open spaces that complement and help stimulate additional neighborhood revitalization. The planning effort will identify the types of land uses and development that are likely to best achieve revitalization goals, informed by both community input and technical analysis. The plan will look at different needs and opportunities present both before and after the opening of the planned station.

Key project goals include:
· Maximize public benefits associated with the planned station investment
· Catalyze economic & community development serving Bridgeport's East Side, East End, and Mill Hill neighborhoods
· Connect residents and employers with new transit services at Barnum Station
· Determine how the former Remgrit factory site, the station site, and other major vacant properties in the area can best contribute to these goals

As a starting point, it is assumed that important qualities desired in the revitalized TOD area include reinforcing the community's multi-cultural character; attracting a mix of land uses including workplaces, housing, retail and parks; and making walking safe and inviting throughout the area, especially to and from the planned station. Plan goals will be revised to reflect priorities stated by community members, and will be expressed in words and illustrations as a community vision for the Barnum Station TOD Plan area.

The TOD Plan will recommend key strategies to capture this opportunity, through coordinated actions by the City of Bridgeport and other stakeholders, like; area property and business owners, community organizations, and state agencies. Plan products will include:
· Comprehensive Vision
· Planning Sub-Districts
· Opportunities and Constraints Analysis
· Land Use and Redevelopment Strategies
· Development Regulations
· Mobility and Connections
· Urban Design and Placemaking
· Adequacy of Public Infrastructure
· Adaptive Re-use Strategy for the Remgrit Site

Community Outreach
Community input on priority concerns and goals is essential to the success of the TOD Plan. The planning process includes a series of public meetings providing opportunity for community members to express their ideas, goals and questions, and to review and refine the emerging plan vision and strategies. It also includes a series of meetings with an Oversight Committee composed of key stakeholders from the study area. The public and oversight committee meetings support a community conversation on the study area's future, informed by local priorities and planning team research, into effective methods to address those priorities. Strong stakeholder support is essential to success of the plan. We welcome your participation in the plan's community engagement opportunities so that the plan may earn your support!

TOD Plan Funding
The City has received a grant from the State Office of Policy and Management (OPM) to develop the TOD Master Plan and a grant from the State Department of Economic and Community Development (DECD) to develop an Adaptive Reuse Strategy for the 889 Barnum Avenue property (Remgrit site).

Other Initiatives That Inform the TOD Plan
A number of other recent and ongoing planning efforts by the City of Bridgeport, MetroCOG (formerly GBRC), the State of Connecticut and other parties provide a valuable foundation for the TOD Plan. These plans represent significant investments of financial and time resources from a wide variety of community stakeholders and public agencies. The TOD Plan builds on the good information and ideas of these plans as it identifies a focused vision and implementation strategies for the Barnum Station TOD Plan area. A partial list of past and ongoing plans includes:

· East Bridgeport Seaview Avenue Development Corridor – Draft (ongoing)
· Bridgeport Waterfront Plan (ongoing)
· State of Connecticut Economic Development Strategy (2015)
· Pequonnock River Trail Extension Alignment Study (2015)
· Let's Go CT! Transportation Vision (2015)
· Market Overview of the Seaview Corridor (2014)
· Barnum Station Feasibility Study (2013)
· Mill Hill Neighborhood Revitalization Zone (NRZ) Strategic Plan (2013)
· Complete Streets Policy & Action Plan (2011)
· East Side Neighborhood Revitalization Zone (NRZ) Strategic Plan (2010)
· BGreen 2020 (2010)
· Bridgeport 2020 Master Plan of Conservation & Development (2008)
· East End Neighborhood Revitalization Zone (NRZ) Strategic Plan (2005)

Schedule
Project schedule milestones:
· Spring 2016: Invite community input on concerns and goals for the study area; analyze market and development potential, Remgrit building conditions, street and park network opportunities, and other existing conditions.
· Summer 2016: Develop vision scenarios.
· Fall 2016: Share scenarios with community members for feedback. Confirm a preferred vision and the plan initiatives that will help achieve it.
· Winter 2017: Complete additional recommendations for the Remgrit and Station sites so they may catalyze positive change in the area.
More info here.