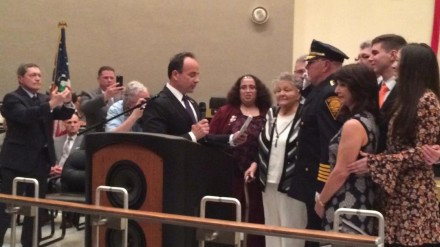 Approaching two years as the city's top cop, few dispute A.J. Perez's likability, work ethic and accessibility, but does that translate into effective law enforcement management? Perez has exhibited decades of loyalty to Joe Ganim, in good times and bad, something the mayor has rewarded Perez in technically an acting capacity. But will it extend to a five-year contract? To do that the mayor must order the Civil Service office to conduct a search for a police chief.

Generally, the way it works, the mayor launches a national search, a committee selects three finalists presented to the chief executive. This process was approved by voters in a charter question presented nearly 30 years ago that limits the leaders of police and fire to two, five-year terms.
Some argue the mayor is doing himself–and residents–a disservice by not ordering a national search that could lead to strong alternatives. Perez, however, has his supporters who embrace his geniality and responsiveness. Either way, Ganim could order a search and select Perez. So what's the down side of just conducting a search?
CT Post reporter Brian Lockhart has more:
Police Chief Armando "A.J." Perez has had a tough sophomore year in charge of Bridgeport's Finest.

A spike in homicides. The fatal shooting of 15-year-old Jayson Negron by a rookie officer. The suicide this month of another officer whom the chief placed on leave in October for alleged use of excessive force.

Then there are the recent allegations that Perez, at the request of the Democratic Party chairman, meddled in a hotly contested City Council primary.

… In March, Perez celebrates his two-year anniversary running the police department of Connecticut's largest city … allies and critics are wondering if and when Mayor Joe Ganim will move to give his longtime friend some job security.
Full story here.