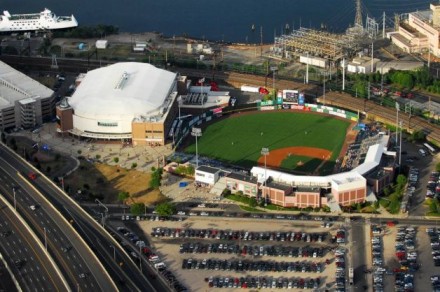 The Bridgeport Bluefish baseball team is celebrating its 20th season at the city-owned Ballpark at Harbor Yard. Will the team be around for 2018? The city is searching for a sports team operator. See request for proposals here.

The city has entered an arrangement with Bluefish principal owner Frank Boulton for the team to play its home games at the ballpark for 2017 following the expiration of a long-term contract. April 28 is opening day. What happens after that?
The Bluefish will pay the city $150,000 in rent this season in addition to about $117,000 to settle a maintenance bill battle left over from Mayor Joe Ganim's predecessor Bill Finch.
According to the request for proposals, the city is seeking a professional sports team operator for the ballpark that calls for operations to begin by July 2018. The deadline for proposals is March 29.
This City seeks proposals for a professional sports team operation or an outdoor entertainment venue, with the possibility of retrofitting the existing facility at the Site. The operation should take full advantage of the Site, and supplement the growth of the Downtown, the South End and the Waterfront with frequent events that have a regional appeal. The operation should begin operations by July 2018.
The ballpark was built at the cusp of the Downtown and South End on an old industrial site that had been owned by Donald Trump who purchased the parcel to be in play for a potential gaming facility. With no development plans for the site, Trump deeded the property to the city in exchange for back-tax forgiveness. The ballpark was built. A few years later the adjacent Webster Bank Arena, also city-owned, opened.
The baseball team was founded in 1998 by an investment group that included Jack McGregor, co-founder of the Pittsburgh Penguins hockey team, his wife Mary-Jane Foster and Mickey Herbert, now president of the Bridgeport Regional Business Council. The first three seasons enjoyed attendance success averaging more than 4,000 fans per game for the 5,300-seat venue. A Fish game became a pride-point event.
Attendance began a steady decline in the years to follow. In time Boulton, founder of the independent Atlantic League, purchased the team and streamlined costs. He also owns the successful Atlantic League franchise Long Island Ducks. During the recent Boulton years creative special events have become the hallmark including high-profile athletes such as Pete Rose, Paul O'Neill and Roger Clemens serving as special guest managers. The creative promotional nights have given the Fish a modest attendance boost.
Boulton has said he'd like the Bluefish to continue in Bridgeport.
Ganim has authorized the issuance of the request for proposals to see if an operator will bite. It could give Ganim negotiating leverage with Boulton if he submits a proposal.