Pereira resolution: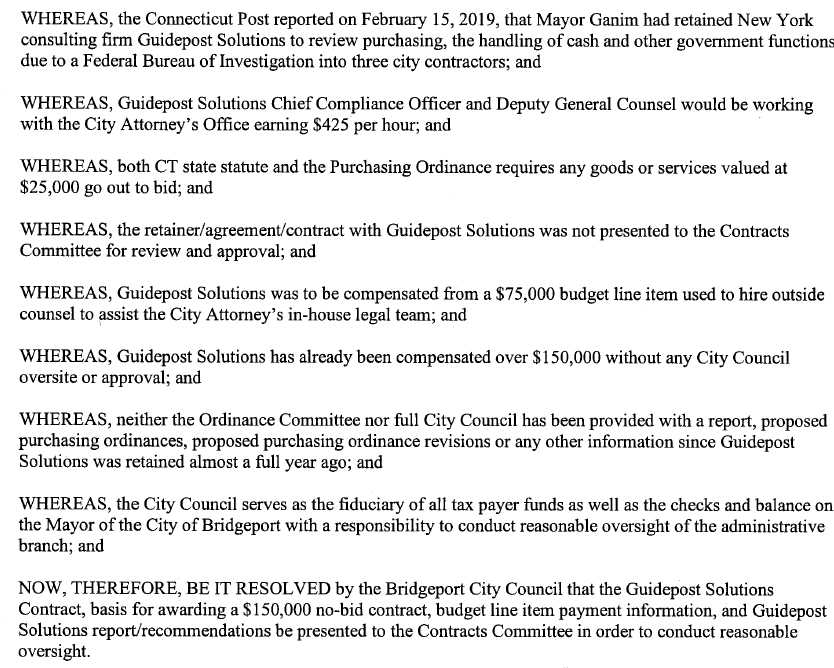 In an email to City Council President Aidee Nieves and co-chairs of the Contracts Committee Ernie Newton and Jeanette Herron, City Councilwoman Maria Pereira is urging Nieves to call a special meeting this week to address her resolution–pending for a month–seeking legislative oversight of payments made to the investigative firm Guidepost Solutions that is among the firms representing the city in response to federal probes of municipal government.
Most council members will be away next week in Washington, DC attending a National League of Cities Conference. Pereira email:
There are NO committee meetings scheduled for Wednesday or Thursday of this week. After all, both Contracts Co-chairs were quoted in the CT Post article published in yesterday's Sunday CT Post expressing consternation and outrage at being kept out of the loop regarding another federal subpoena not just from the CT District, but also from the Southern District of NY. In addition, close to $300,000 has been spent on Attorney DeVita and Guidepost Solutions through November 30, 2019.

https://www.ctinsider.com/local/ctpost/article/Federal-investigators-from-CT-NY-issue-2nd-15093840.php

This is of such critical importance that I am urging City Council President Nieves call a Special Meeting of the City Council for Wednesday, March 4, 2020 or Thursday, March 5, 2020.

And, if City Council President Nieves does not, I strongly urge the Co-Chairs of the Contracts Committee to reschedule the March 10th Contracts Committee for either Wednesday, March 4, 2020 or Thursday, March 5, 2020.

Both we and the public have a right to know what Mayor Ganim's administration is involved in.
Note: The Contracts Committee meeting scheduled for March 10 has been "CANCELLED due to a
lack of quorum and will be RESCHEDULED for a later date this month," according to a posting Monday on the City Council web page.
The lack of quorum is due to the DC junket.
Pereira's resolution appeared on the agenda of the February 3, 2020 City Council meeting. It was referred to the Contracts Committee on that date.
According to minutes of the meeting, Eneida Martinez made the motion to refer the matter, and others on the list, to the appropriate committee. Ernie Newton seconded the motion and the motion passed unanimously on Feb 3.
Since then, it has not moved forward.