All dressed in power red, Board of Education incumbent Maria Pereira, who's also a Democratic nominee for City Council in the Upper East Side 138th District, is joined in video above by JoAnn Kennedy and Helen Olga Losak, her running mates on the For the People Party line for school board.
On Tuesday city electors can vote for any 3 of 12 school board candidates appearing on the ballot, 3 Democrats, 3 Republicans, 3 Working Families and 3 For the People. School board seats are regulated by minority-party representation that up to 10 years ago generally featured 6 Democrats and 3 Republicans, prior to the Working Families candidates displacing some GOP seats at the polls starting with Pereira and Sauda Baraka in 2009. Pereira returned to the school board running on the Democratic line in 2015.
The 3 Democrats are prohibitive favorites to win. That leaves 9 other candidates to fill the one remaining minor party slot because incumbents John Weldon and Chris Taylor, not up for reelection this cycle, are registered Republicans.
Sample ballot below from the West Side 132nd District.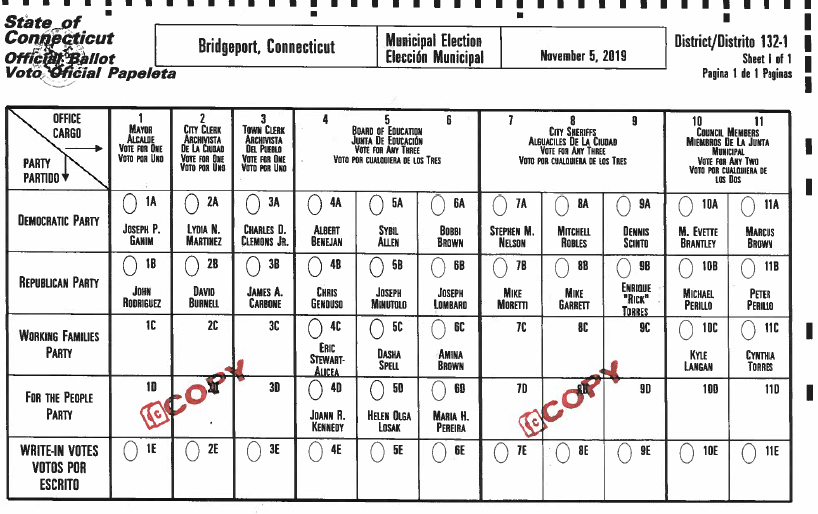 Pereira shares a commentary pitch about her slate:
"Government of the people, by the people, for the people" is exactly what Bridgeport needs. And, that is exactly what the "For the People" party in Bridgeport will stand for.

For far too long those who are elected to office in Bridgeport believe that they can and should use their office to line their pockets or those of their family, friends and campaign donors. Quite often, elected officials do not serve the interest of the very people that elected them, but instead serve their own interests or those of their party or party bosses.

As Bridgeporters, we MUST reject that philosophy.

It is for these reasons I created the "For the People" party. No individual(s) with a history of criminal corruption, unethical and dishonest behavior, or failing to meet their most basic responsibilities as a representative of the people would ever be allowed to run on the "For the People" line.

I have NEVER supported or worked on behalf of an endorsed Democrat in Bridgeport, and it is highly likely I never will. If Democratic Town Committee (DTC) Chair Mario Testa and the 90 members of the DTC choose to endorse a citywide candidate, it is highly probable that they are highly unqualified, unethical, and controlled. The sad reality is if DTC Chair Mario Testa wants someone elected they cannot possibly be good for "We the People."

I have NEVER sought the DTC endorsement and I never will. This is why I decided to create my own political party and asked JoAnn Kennedy and Helen Olga Losak to run for the Board of Education with me.

I believe through our actions, not rhetoric, that we have demonstrated that we truly care about the well-being of our 20,400 students. In fact, JoAnn Kennedy has a better attendance record at school board meetings than seven of the nine current school board members. She is the former Parent Teacher Student Organization President at Bassick High School, former member of the School Governance Council at Bassick High School, launched a Book Club at both Bassick High School and Curiale School, and she currently volunteers her time as the Dunbar School Cheerleading Coach. Helen Olga Losak is an Early Childhood Educator who has also served as a substitute teacher in both the Bridgeport & Stratford public schools. She has a long record of community activism in the 138th District.

We absolutely promise that our ONLY loyalty will be to our 20,400 students, NOT a political party, party bosses, or campaign donors.

We hope you agree that the only focus of every school board member should be what is in the best interest of our school children, not adults. In addition, innocent school children should not pay the price for the actions or inaction of adults.

It is for these reasons that we are asking for your vote, regardless of your political affiliation, on Tuesday, November 5th.