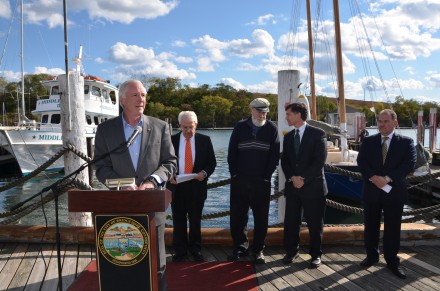 UPDATE: The City Parks Commission Monday night voted unanimously against the solar field at Seaside Park. City Council vote on this issue will not take place Tuesday night. Two dozen city residents, including City Councilman Rick Torres, attended Parks Commission meeting urging a no vote. City Councilwoman Sue Brannelly spoke in favor of project. Can city officials find a way to bypass Parks Commission vote?

Madeline Dennis Raleigh who moderates the Bridgeport In The Know website and Black Rock Bitches Facebook page has issued an appeal "to stop the United Illuminating solar project from being built at Seaside Park. We do not need to industrialize Seaside Park." The City Council was scheduled to vote on the proposal that includes thousands of solar panels at its meeting Tuesday night, 7 p.m. A public hearing will also take place Tuesday. The votes were expected for passage, prior to rejection by the Parks Commission.
Last October Mayor Bill Finch announced a city partnership with United Illuminating for the Green Energy Park renewable energy project, one of the initiatives proposed in the City's BGreen 2020 sustainability plan to create jobs, save taxpayers money and fight climate change. The planned project consists of 2.86 MW of Solar Photo Voltaic and 2.8 MW of fuel cell energy, according to the mayor. The green energy project will generate tax revenue for the City, and cut down on UI's dependence on fossil fuels and reduce greenhouse gas emissions for citywide UI customers. The project is estimated to pay nearly $7 million in tax revenue under the terms of a 20-year agreement.
Black Rock councilman Rick Torres has voiced opposition to the proposal claiming the west end of Seaside Park is not a proper location. He has also expressed concerns about what thousands of solar panels will look like across the harbor from the vantage point of his Black Rock and West End constituency. Councilwoman Sue Brannelly has also voiced concerns about the visual impact. From Madeline Dennis Raleigh:
You can show up & speak at the public hearing Tues 2/18 at 7 pm at the start of the City Council meeting at City Hall Council Chambers. The project may be voted on for final approval that night. This may be the last chance to stop the project if enough people show up and speak out! You can contact your city council person before Tues night and tell them you oppose the UI solar facility at Seaside Park. For their contact info, go to bit.ly/1cJmhWA

Yes, solar energy is a great thing, but do you want a UI facility taking up 50 acres of land set aside for a 365 acre park? The amazing coastal land was given to the people of Bridgeport by PT Barnum. Yes, there is a landfill there now, but there are ways to make an old landfill into a beautiful park. It can be a long, expensive process, but it's been successfully done in many places across the country, currently at Fresh Kills Park in Staten Island. Details on that one here: bit.ly/1eY5lQz. Funding is available for a Bridgeport cleanup of the Seaside Park landfill. There are many other abandoned places in Bridgeport for such a facility. More info on the project here: bit.ly/1cJm9X8 and bit.ly/1jHjJAc

We do not need to industrialize Seaside Park. We do not need UI building energy facilities in a precious park that is on the National Registry of Historic Places and that was designed by the famous Frederick Law Olmsted. Help save Seaside Park for future generations! This may be our last chance to stop this.
Full council agenda here.