Mayor Joe Ganim was not invited Thursday night to participate in a "job interview" to be Connecticut's next governor hosted by the Rell Center for Public Service at the University of Hartford but he showed to the event to shake out some free media attention in advance and then greeted the host, former Governor Jodi Rell, inside. Rell and Ganim in 1994 got to know each other on the campaign trail as their respective party nominees for lieutenant governor. Rell was the running mate of Republican John Rowland who was elected governor and then resigned in the summer of 2004 in the throes of a federal corruption probed. Rell became a popular governor.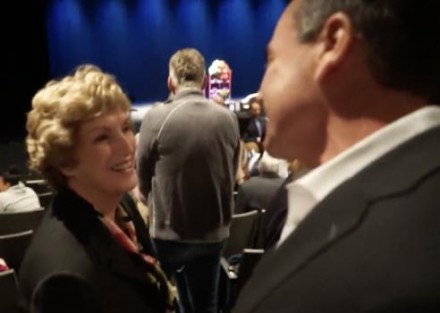 The event protocol called for inviting only those candidates who'd qualified for the ballot based on party convention support. Ganim is trying to wage an August Democratic primary against party-endorsed Ned Lamont via an ongoing petition drive that will end June 12. The Office of the Connecticut Secretary of the State has begun the signature tabulation process for candidates, both Democrat and Republican, seeking ballot access via signatures from party enrollment. Ganim needs roughly 15,500 validated signatures.
Ganim, see video above provided by Christine Stuart of CT News Junkie, courted an audience of several Connecticut media outlets outside the event. Stuart shares this report:
Ganim was outside the Lincoln Theater Thursday before the debate trying to paint himself as the outsider and underdog.

anim feigned ignorance of the rules for the event when confronted by Mildred McNeil of the University of Hartford.

McNeil explained that he can't campaign outside the theater because the other candidates have agreed not to do that, and it's private property.

Ganim said he was too busy collecting signatures to get on the ballot to read the rules the Rell Center sent his campaign before the party conventions in May.

"I was out getting signatures," Ganim said.

Ganim said he doesn't know how they are going to have a debate with only one Democratic candidate.

"There's no debate," McNeil said.

McNeil said she can't let the media ask Ganim questions on campus.

Ganim was not barred from the event, but McNeil eventually gave him a ticket to let him in to sit in the audience.

At some point during the evening Rell thanked Ganim for coming and for his understanding.

She said he recalled the last time they were in a campaign against each other. It was 1994 and both were running for lieutenant governor.

"I had forgotten about that," Rell said.
Full story here.