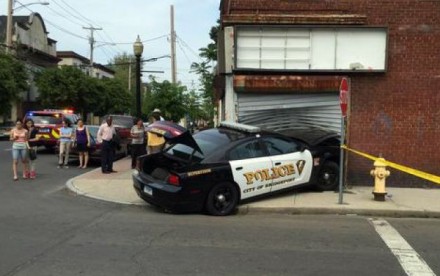 From CT Post reporter Fausto Giovanny Pinto:
A Bridgeport Police cruiser slammed into a building in the East End on Tuesday afternoon after a two-car crash.
Emergency crews were called to the intersection of Stratford Avenue and Carroll Avenue just after 3:45 p.m. when initial reports of the crash came in over a police scanner.

The cruiser was racing down Stratford Avenue without sirens on and swerved to avoid hitting a small gray sedan crossing Carroll Avenue, according to witnesses who did not wish to give their names. City officials did not comment on whether the cruiser was speeding.
Full story here.