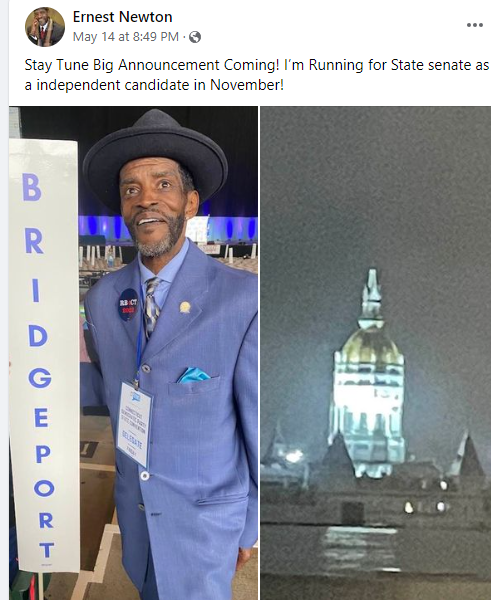 City Councilman Ernie Newton is posturing for the political Pinocchio of the month, shoveling some mighty fine deception as he tries to wipe off the stink for trying to extort Herron Gaston from the state senate seat Newton wants back but Dem party regulars don't.
Now, Newton claims on his Facebook page, he'll be a petitioning candidate for the seat in November after throwing his support to embattled incumbent Dennis Bradley, declaring mendaciously he won't kick someone when they're down. Bradley is scheduled for trial in a few weeks for alleged connivance of Connecticut's system of publicly financed races.
Newton completely miscalculated the Democratic Party support with Bradley battling for his liberty. He thought they'd run into his wide-open arms for occupying the seat roughly 20 years ago, banished after pleading guilty to public corruption charges. Newton would have had little trouble kicking Bradley in the teeth if party insiders backed him for the slot.
Now he says he's running in November. Last week Gaston received the party endorsement. Bradley has qualified for an August primary. What's likely at play here is Newton betting Bradley wins the primary but a conviction prevents him from appearing on the ballot in November. Others could see it the same way and petition for a November run.
Along the way, however, Newton, co-chair of the City Council's Budget & Appropriations Committee, tried to bleed Gaston out of the race, threatening to cudgel his city position if he continued with his candidacy, according to Gaston who has text exchanges to back up his assertions.
Gaston, assistant chief administrative officer, has filed a complaint with the City Attorney's Office and plans another with the State Elections Enforcement Commission. Excerpt from Gaston's charges:
On or about Wednesday, March 9, 2022, Councilman Newton sent a text message to my personal cell phone and requested that I call him. At his request, I phoned him on or about March 9, 2022 to follow up with him. During the call, he let me know that he and his colleagues were in discussion about cutting my position specifically because they did not "hire me" to run for public office, and that simply he was putting a bug in my ear. I let Mr. Newton know on the call that it is my constitutional right to run for public office and that he and his colleagues might be in violation of State statute. He further expressed that "he did not care about any of that," and to "not cross Ernie." I asked him was that a veiled threat and he said it is not a "threat but a promise."
In a subsequent face-to-face meeting, says Gaston, Newton tried to walk back his remarks by declaring "the white boys" on the committee "want to cut you."
Fred Gee, a candidate for State House and director of the city's Small & Minority Business Enterprise was part of the meeting that included East End District Leader Ralph Ford.
Confronted with Gaston's claims by OIB, Newton responded, "That's bullshit. Gaston should know better. There was talk about cuts. I did not threaten him. I have no clue what he's talking about."
Newton had previously admitted to OIB and Brian Lockhart from the CT Post that city employees were "targeted" but not by him.
Confronted initially with "the white boys" declaration, Newton said to OIB that was a lie.
"Ernie, Fred Gee confirmed you made the statement."
Newton responded: it was a "private conversation among brothers."
Now that Newton has publicly declared his intention to run for his old seat, it embodies Gaston's complaint with a state investigation and perhaps could involve other law enforcement agencies.
Newton went to federal prison 20 years ago for playing political and government stickup games. This is an investigation that may stick.