Remember those days of food fights at school board meetings? And you thought The Carroll Nutrition Center just served the kids, right? Who loves pie!
Back in the day, Maria Pereira, Kenneth Moales, Jessica Martinez and Chris Taylor chucked it one way or another. Pereira's now slinging custard on the City Council, Moales is getting creamed by foreclosure of his church properties, Martinez and Taylor have had enough pie, exiting the nine-member body when the current session ends and starts anew, in December.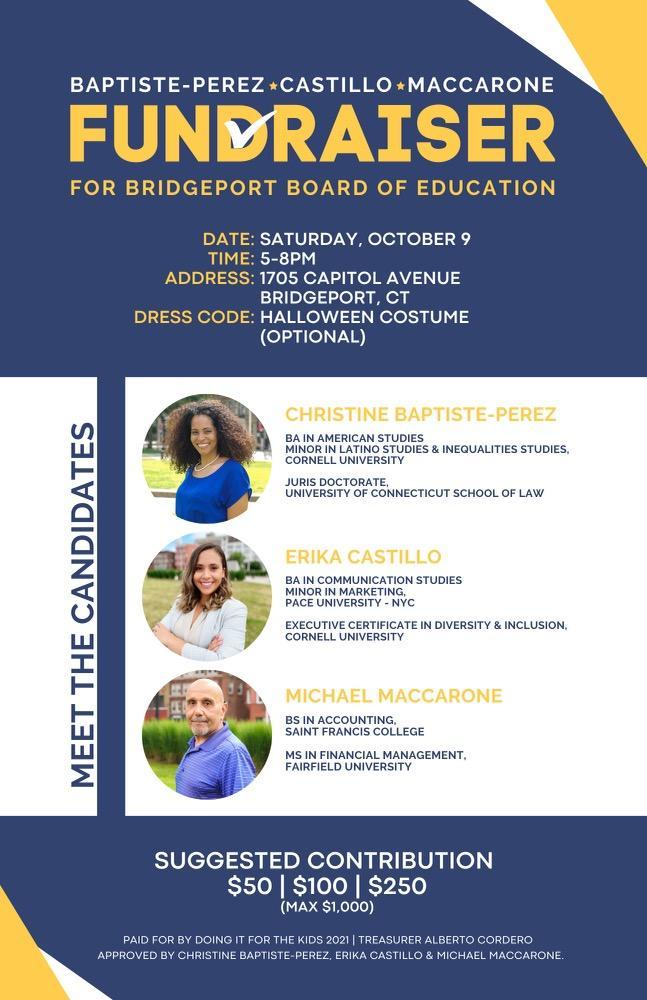 A new look will take over led by non-traditional candidates, and some of them with advanced degrees. What a novel approach, as noted above in the fundraising teaser highlighting academic backgrounds of the candidates. You can even don a Halloween costume for the occasion.
Democrats Christine Baptiste-Perez and Erika Castillo had pondered runs for City Council in the 138th District, the domain of Pereira. Party regulars guided them to school board slots, suggesting they'd have a better shot at winning and that is definitely the case.
Michael Maccarone, an adjunct professor at the University of Bridgeport, enjoys Democratic Town Chair Mario Testa's macaroni. Mario, apron-attired swirling his candidate sauce, said: let's try someone new. Welcome to the party Michael. How about a little tiramisu to complement an espresso?
The school board is governed by state-mandated minority-party representation meaning three of the nine slots cannot be held by the major party, in this case Democrats.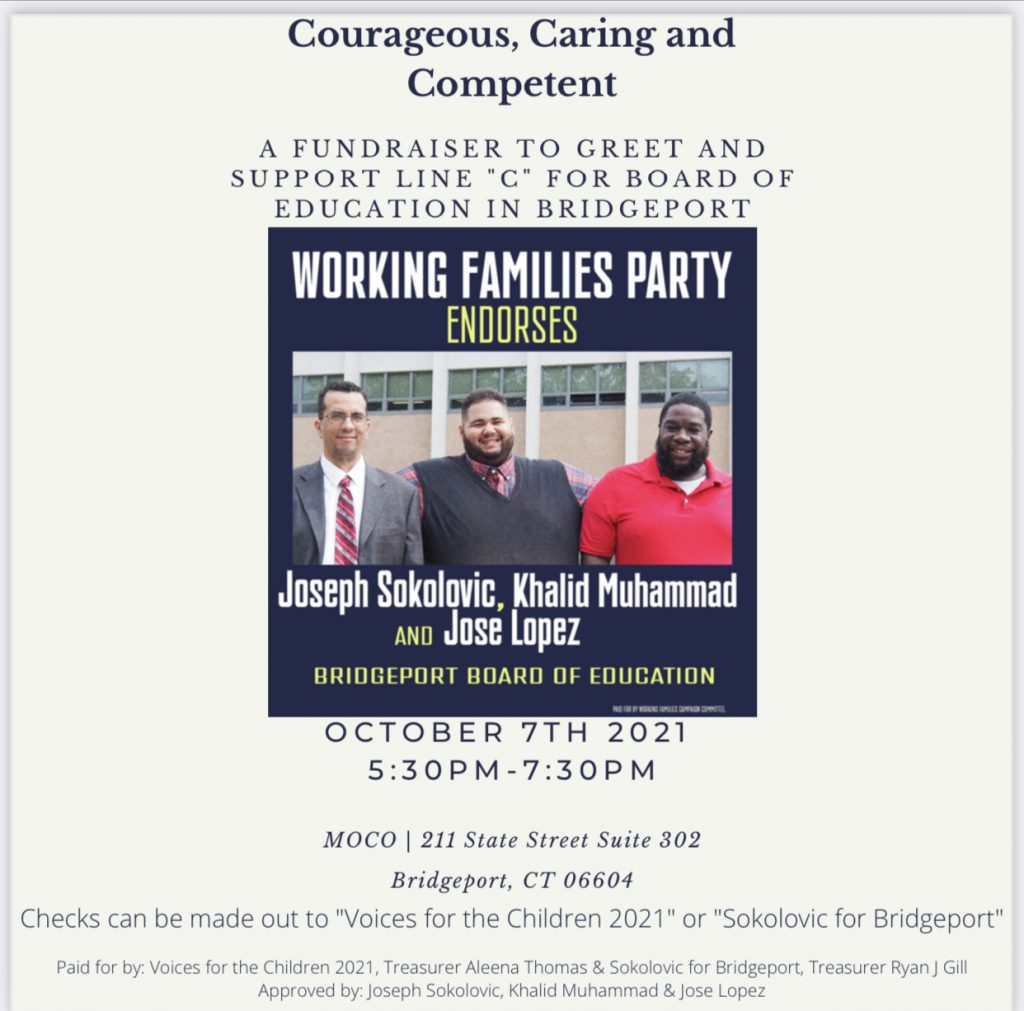 So the real campaign food fight looms between Republicans and Working Families Party that has made inroads through the years starting with the elections of Pereira and Sauda Baraka in 2009. For November the WFP has endorsed incumbent Joe Sokolovic, Khalid Muhammad and Jose Lopez. Baraka is the local WFP chair.
Republican candidates are led by current board chair John Weldon, and Mary Gaits and Peter Perillo.
Watch for the political machinations. The Republicans are more acceptable to the Democratic establishment than the WFP candidates. Translation: Let's set some of our people free to vote for them.
Why is Weldon, a Republican, school board chair and not a Dem? School board leaders in Bridgeport have a long selection history based on personalities and not party. After a revolving door of school board chairs, Weldon has settled into that role, but his future depends on his reelection and subsequent makeup of the board.
Republican Michael Bisciglia led the school board for more than a decade in the 1980s and 1990s when pie-throwing incidents were kept to a minimum.
Based on the backgrounds and personalities of the school board candidates it appears the Board of Education is heading back to less pie.