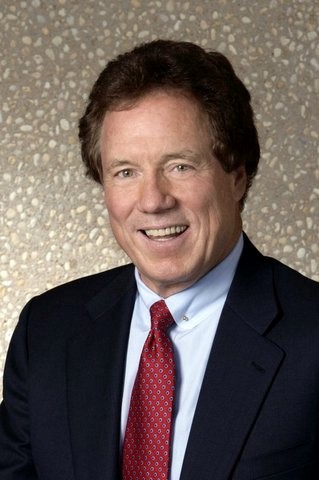 Mickey Herbert, co-founder of the Bridgeport Bluefish baseball team and a leading healthcare professional who was among only a few high-profile business leaders to support Mayor Joe Ganim's comeback bid last year, has been named president and CEO of the Bridgeport Regional Business Council, replacing Paul Timpanelli who is retiring Oct. 31.

Herbert experienced business success as a young man. He was the founder of Physicians Health Services, a health plan organization, where he served as CEO for 22 years. In 1998 he was part of a development team, and a chief financial partner, that founded the Bridgeport Bluefish celebrating its 20th season next year. He also served as CEO of health care giant ConnectiCare.
Herbert's selection also intrigues because he openly supported Ganim's comeback bid last year when most high-profile business professionals were solidly behind incumbent Bill Finch who Ganim lanced in a September Democratic primary and then closest rival for mayor Mary-Jane Foster in the general election. Herbert, Foster and her husband Jack McGregor were the core founders of the Bluefish. But in the years that followed a frosty relationship developed.
Many business leaders disconnected from the inner working of city politics and urban voters were befuddled by Ganim's victory. Herbert, however, backed Ganim advocating his first tenure as mayor. Herbert served as co-chair of Ganim's Economic Development Transition Team with Rina Bakalar, director of economic development for the town of Trumbull.
News release from the business organization.
The Bridgeport Regional Business Council (BRBC) Board of Directors today announced the appointment of business executive and healthcare advocate Michael E. 'Mickey' Herbert as President and Chief Executive Officer of the organization. Herbert succeeds Paul Timpanelli, whose retirement as President and CEO is effective October 31.

Herbert most recently led the expansion of Harvard Pilgrim Health Care, one of the nation's highest-ranked health plans for the past 15 years, into the state of Connecticut.

"Mickey is uniquely qualified to lead the organization during this time of transition. His more than 40 years of experience in business creation, healthcare advocacy, combined with his consistent and enthusiastic participation in the business community on the local, regional and national scale will be of tremendous assistance to the BRBC," said Armando Goncalves, People's United Bank Market President for Southern Connecticut, Westchester and Hudson Valley, N.Y. and Chairman, BRBC Board of Directors. "We all look forward to working with Mickey to continue to strengthen the organization, propel business growth within Bridgeport and the region, and expand our membership."

The relocation of Housatonic Community College, the West End Industrial Park, the downtown sports/entertainment complex, and Steelpointe Harbor, a mixed-use commercial, retail, residential development, anchored by national outdoors retailer Bass Pro Shops–are among the best-known projects that Timpanelli and the BRBC have helped to make possible.

"I am enormously excited at the prospect of promoting the economic well being of the Greater Bridgeport business community. This region has been my home since I came here to start Physicians Health Services (PHS). At the BRBC, I intend to leverage the business and governmental relationships I have fostered, and the experiences I have gained during a professional lifetime to help this region develop to its fullest potential. I believe there are extraordinary economic opportunities on the horizon for our BRBC members and for our region. I will focus my energy to ensure those opportunities are realized," Herbert said.

Herbert's charge as President and CEO of the BRBC will be to continue to strengthen the financial health of the organization; realign the organization's vision to better meet the challenges that businesses are facing, and grow the membership base. The organization currently has about 800 members from solo practitioners and owners of small businesses to companies and corporations throughout the Greater Bridgeport area.

Herbert is considered one of the country's leading experts on health plans and healthcare reform, and is well respected locally, regionally and nationally for his entrepreneurial spirit and business acumen. From 2005 to 2010, Herbert was the President and CEO of ConnectiCare, a $1-billion-dollar health plan in Connecticut and western Massachusetts, and was also the Executive Vice President of ConnectiCare's parent company, EmblemHealth, a $10 billion company in New York City. While he was ConnectiCare's CEO, the company was ranked as the No. 1 for-profit healthcare plan in America.

Prior to joining ConnectiCare in 2005, Herbert was the founder and CEO for 22 years of Physicians Health Services (PHS), a health plan serving Connecticut, New York and New Jersey. Under his leadership, PHS had a successful public offering, and operated as a publicly traded health plan until it was sold, when it had 34,000 participating physicians serving 550,000 members.

In addition to his extensive executive experience leading and managing multi-million dollar businesses, Herbert has lengthy experience in economic development activities in the region and the state, most recently as co-chair of Bridgeport Mayor Joseph Ganim's Economic Development Transition Committee. In the past, he was named by the State of Connecticut as Bridgeport's City Champion, responsible for developing an Inner City Business strategy for Bridgeport. While serving on the MetroHartford Alliance board of directors, he was its Economic Development Chairman. He is the founding Executive Director of the Connecticut Health Council, an association of health sector leaders who work together to promote Connecticut as a premier center for the development of businesses, initiatives and technology. Before he joined ConnectiCare, Herbert was founder and served for eight seasons as CEO and majority owner of the independent minor league Bridgeport Bluefish Baseball Club.

Herbert has served on the board of numerous organizations throughout Connecticut, including the Connecticut Business and Industry Association, the MetroHartford Alliance, the Greater Hartford Community Foundation, the Barnum Museum and the Barnum Festival. He is a past Chairman of the Bridgeport Regional Business Council and is currently a member of its Executive Committee. For the past eight years he has served as a director of the University of Connecticut Foundation, and is currently on that organization's Executive Committee and serves as its Human Resources Committee chair.

"Mickey Herbert is a very well-liked and well respected member of our business community in the greater Bridgeport region and I am looking forward to working with him again," said Bridgeport Mayor Joseph P. Ganim. "He is a terrific choice to lead the Bridgeport Regional Business Council. We have a long history of working together to bring minor league baseball to our region in a way that served as an anchor for business development that led to the South Main Street Entertainment and Sports Complex. The entire region continues to benefit from this development 20 years later. I am looking forward to renewing this partnership with Mickey for Bridgeport's future and for the leadership he will bring to the BRBC and the region at a very exciting time for development in this area."

"All of us at the MetroHartford Alliance are delighted that the Bridgeport Regional Business Council has engaged Mickey Herbert to succeed Paul Timpanelli as its Chief Executive Officer. We've had the pleasure of working with Mickey over the past 15 years as an entrepreneur, as an insurance executive, and as a leader committed to improving Connecticut's employment opportunities and the quality of life for all residents. We've also benefited from Mickey's experience and insights through his chairing our Strategic Partner group and our Connecticut Health Council. We look forward to working with Mickey and the BRBC team on tackling State fiscal issues and other matters that require significant public-private collaboration to reignite the public sector confidence needed to restore a vigorous Connecticut economy," said Oz Griebel, President and CEO of the MetroHartford Alliance.

Herbert holds a bachelor of arts from Swarthmore College, and a master's of business administration from Harvard University. He is a graduate of an HMO Fellowship Training Program at the Wharton School and was a Senior Fellow of the Executive Program in Managed Care at the University of Missouri. He has an honorary doctorate degree from the University of Bridgeport. Herbert lives in Fairfield with his wife, Jackie. They have five adult children and four grandsons.

About the Bridgeport Regional Business Council: Representing 800 member businesses and organizations in the Greater Bridgeport Region, the Bridgeport Regional Business Council is a voluntary organization that works to promote regional cooperation and economic development via advocacy for the expansion, retention, and recruitment of business, improved transportation/infrastructure, affordable healthcare, and business friendly legislation in pursuit of its goal to increase jobs and tax base growth. The BRBC includes six affiliates: The Bridgeport Chamber of Commerce, the Stratford Chamber of Commerce, the Trumbull Chamber of Commerce, the Bridgeport Economic Development Corporation, Leadership Greater Bridgeport and the Women's Leadership Council. For more information, visit www.brbc.org