Bridgeport City Council President Tom McCarthy Monday night won the Democratic endorsement for Connecticut's 22nd State Senate seat at the party convention over freshman incumbent Marilyn Moore who received enough support to qualify for an August primary. The delegate count was 34-12 at Testo's Restaurant.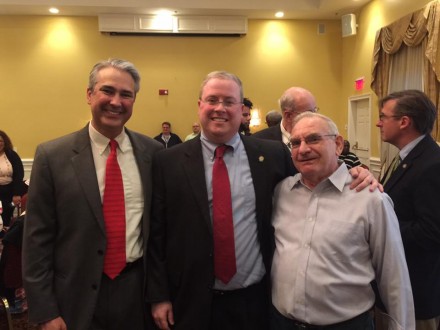 "I'm excited to have the support of a cross section of leaders from Bridgeport, Trumbull and Monroe," said McCarthy after the vote. McCarthy's first major fundraiser will be Tuesday, 6 p.m. at Vazzy's 19th Hole at the Fairchild Wheeler golf course.
Moore has a fundraising start over McCarthy in their quest to qualify for Connecticut's Citizens Election Program of publicly funded races.
Endorsed candidates have not done well in city primaries in recent years as insurgents have succeeded against the party establishment candidates. Moore defeated incumbent Anthony Musto in a 2014 primary.
Connecticut's 22nd State Senate District covers one-third of Bridgeport, all of Trumbull and a portion of Monroe.
Traditionally it's considered a swing district, although Democrats have occupied the seat since Bill Finch defeated Republican incumbent Lee Scarpett in 2000, with the exception of 10 months when Republican Rob Russo won a 2008 special election over Tom Mulligan after Finch vacated the seat following his 2007 election as mayor.
Democrat Musto defeated Russo in Barack Obama's 2008 electoral tsunami. Moore knocked off Musto in a 2014 primary on her way to a general election win. She is the only African American female in the State Senate.