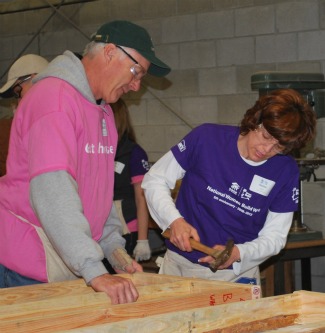 From Mayor Finch:
Mayor Bill Finch and his wife, Sonya along with Mary Himes and Cynthia Blumenthal raised their hammers on Tuesday morning to celebrate Habitat for Humanity's National Women Build Week, May 5-13.


The event is a nationwide initiative of Habitat's Women Build program. Now in its fifth year, National Women Build Week challenges women to devote at least one day to creating simple, affordable housing in their local communities.

Habitat for Humanity of Coastal Fairfield County (Habitat CFC) has built eight Women Build homes.

The Mayor was also joined by volunteers from General Electric's corporate women's network who helped build the new home, located on Whittier Street.