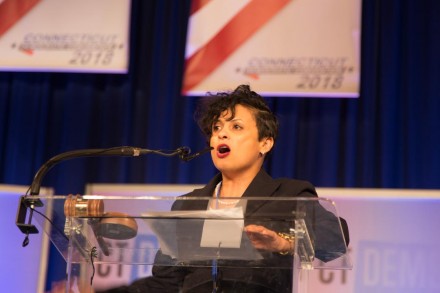 Former Health Director Maritza Bond who did not shy from city politics, even placing Mayor Joe Ganim's name into nomination at the Democratic Party convention in 2018 during his ill-fated run for governor, is weighing a campaign for Connecticut secretary of the state. Incumbent Democrat Denise Merrill is not seeking reelection.
A whole bunch of pols are lining up for this position, likely the only open constitutional office for Dems. She may have local company from State Rep. Chris Rosario who's likely to hoist the bulk of the city political establishment if he gets in the race.
Another potential opponent Jacqueline James, who has deep roots in New Haven including as former Democratic Town Committee chair, served as manager of Ganim's 2018 gubernatorial campaign.
Bond, hired by Ganim in November 2016, was a visible community face in neighborhoods advancing city health initiatives including the Fight The Bite campaign about West Nile virus and shutting down controversial bodegas in violation of health codes.
She left for New Haven in January 2020.
Bond statement:
My life has always been about fighting for people of all backgrounds and ethnicities to help them gain equitable access to quality health services. I'm a product of Fair Haven, a product of Connecticut public schools.

I've led New Haveners through one of the worst moments in human history, while tackling long-standing, unanswered issues like lead poisoning in our infants and children. I've been a public servant my entire career, and I'm ready to lead our state to a place where everyone has the opportunity to actualize their dream and have a good life–starts with equity and access.

I'm exploring a run for statewide office because I know firsthand how hard it is for many communities to have a seat at the table and access to public servants. I know firsthand how hard it is for many to get access to the voting booths. And I know firsthand how hard it's been for our business community getting access to the resources they need to thrive beyond the pandemic.

I'm ready to serve our State. I look forward to the path ahead and meeting Connecticut residents as I explore a run for statewide office.
OIB friend Paul Bass, editor of the New Haven Independent, shares more: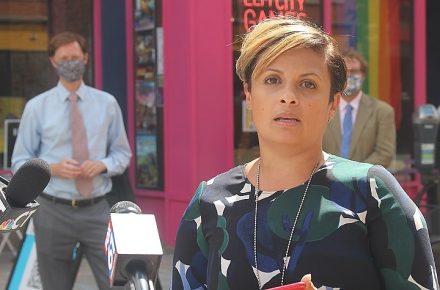 Two more New Haveners have begun work on potential campaigns for Connecticut's top elections and business-records oversight position: city Health Director Maritza Bond and former Democratic Town Chair Jacqueline James.

Bond has filed papers to form an exploratory committee for state office. Bond, who is 44, plans to make a formal public announcement of her exploratory committee's formation at an event next Wednesday in Criscuolo Park in New Haven's Fair Haven neighborhood, where she grew up.

Bond said she is weighing a run for the Democratic nomination for secretary of the state, one of the only statewide positions expected to be open in next year's election. Incumbent Denise Merrill is stepping down after three terms in the office. A host of Democrats have already filed "exploratory" committees with an eye on replacing her, including New Haven Alder Darryl Brackeen, Hamden State Rep. Joshua Elliott, State Sen. Matt Lesser of Middletown, and Meriden State Rep. Hilda Santiago.

Meanwhile, James told the Independent Friday that she plans to announce her own candidacy in three weeks–not an "exploratory" campaign, but a full-out quest for the secretary of the state position.

"I'm committed to running. Our residents in the state of Connecticut need someone who's committed," James said.

Besides overseeing elections, the secretary of the state is in charge of business filings and maintaining the commercial registry. The secretary of the state also proposes and lobbies for new election laws.

Perhaps as a result, for decades–since 1991–the position has been filled by state legislators who already had experience drafting and voting on such legislation: Merrill, Susan Bysiewicz, Miles Rapoport, Pauline Kezer.

Bond was asked on Friday what experience she would bring to a job usually held by people with legislative backgrounds.

She spoke about her day-to-day work helping small businesses stay open safely in the Covid-19 pandemic, as well as the work she did in conjunction with others in city government on enabling people to vote safely. Bond has served as the public face of the city's Covid-19 response and earned plaudits for her work, in which she formed coalitions with ministers, Yale's public health school contact tracers, pharmacies and hospitals. (Click here to read about that and about her background.) She argued that the administrative skills she developed would fit neatly with the secretary of the state's mission.

"I have a unique story. I'm not your normal politician," Bond said.

"Being a leader and an administrator already, I ran the largest health department in Connecticut, in Bridgeport. I now run the third-largest city in Connecticut in the middle of a pandemic that heightened a lot of different social issues in our country. I want all our residents to trust the government again. Right now we see the challenges with vaccination rates in our community. We can undo this with new leadership, trusted people who care about meeting people where they are at, instead of at the voting booth. It's bigger than all of us, and I'm excited to be a voice for those who've never had a seat at the table.

"I'm exploring for statewide office because we need a new type of leadership for this post-Covid world, people who are battle-tested to get the work done. I feel I embody those qualities and look forward to the road ahead."

Much of Bond's work in New Haven–and before that in Bridgeport and the Naugatuck Valley–has focused on health equity, on bringing information and access to care to communities of color and other marginalized groups.

"Through this pandemic, I spearheaded and demonstrated strong leadership as an administrator in an executive role and collaborated with many different sectors to ensure a safe reopening and ensure small businesses can thrive."

Bond said she will continue working as city health director at least through the fall, restricting her exploratory campaign efforts to nights, weekends, and personal time.

"I will reassess in December and determine whether I need to take a leave of absence. My goal is to work as long as I can. I love public health. There are different goals I need to finish," she said.

Bond's exploratory campaign treasurer is Jenell Lawson, a deputy director and vice-president at Community Action Agency of New haven.