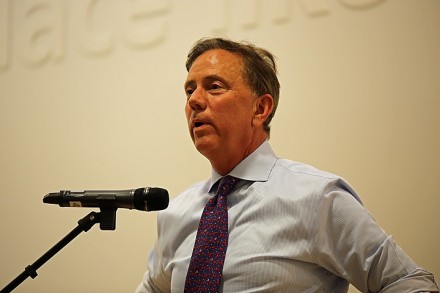 Ned Lamont is making promises no gubernatorial contender has ever delivered before, but if he becomes governor and shepherds his pledges they'll represent well over $50 million extra to the state's largest city for reimbursement on payments in lieu of taxes (PILOT) and Education Cost Sharing (ECS) formula.

Colleges, hospitals, government buildings are not taxable to host communities. Bridgeport has numerous parcels whose values amount to more than one billion dollars that are non taxable, services desirable to the entire region. Every year it's a budgeting battle for local bean counters. How much can we plug in from the state in PILOT dough that covers a fraction of what the city would receive if those properties were fully taxable?
On many occasions this campaign cycle Lamont has pledged to "fully fund" PILOT and ECS. If he lives up to his lofty goals ECS would represent another $48 million toward Bridgeport education based on the latest formula that drives state education dollars to the city. Fully funding PILOT would generate tens of millions extra.
Lamont reiterated his promise again Wednesday night, as reported by a skeptical Christine Stuart of CT News Junkie, who immerses herself in state budget battles.
But before he left he made a few promises he might not be able to keep.

"I would fully fund PILOT and I would fully fund ECS," Lamont told the crowd.

PILOT, or payment-in-lieu-of-taxes, is the amount of money the state gives to municipalities as compensation for the state property, colleges, or hospitals that a municipality is unable to tax. ECS is the education cost sharing grant the state provides to cities and towns to help pay for education. Both the ECS formula and PILOT have been underfunded by hundreds of millions of dollars.

That means Lamont would be adding hundreds of millions of dollars to the estimated $4.6 billion, two-year budget deficit the next governor will inherit.

"You're going to want a governor who is a champion for all of our cities and all of our people. We're a small state," Lamont said.

Asked about how he planned to pay for the increase in spending in order to fully fund those two programs, Lamont said he would "streamline the delivery of services" and "think about how they can extend the sales tax to the online Internet economy."
Right now Lamont and Mayor Joe Ganim are foes on the gubernatorial campaign trail, but if Lamont is elected governor and cements those ambitious promises they'll become friends very fast.
So more promises just to get elected? Or will Lamont deliver if he gets there?