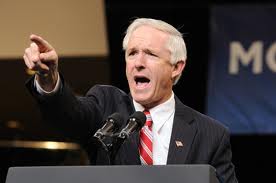 Bill Finch
Tale Of The Tape
Age     55
Height  6'2"
Weight  180#
Reach   Democratic primary voters
Chest   Sunken
Bicep   Needs Spinach
Neck    Long
Thigh   Twiggy
Record  5-0 since 2000 (State Senate and mayor)
On Thursday, the mayor and his son Pete, 28, witnessed a man clobbering another downtown. They charged to his assistance. The man doing the pounding took off. Pete Finch explains:

"I felt bad for the guy getting beat up. He was getting punched and kicked and blood was coming out of his head. I'm glad the perp didn't have a gun because my dad pulled up on the corner as if he was in an actual police car–minus the gun and badge. It was really cool how many of the citizens came together to help the victim, while some other citizens rode their bike and ran after the perp.

I was impressed the police got him as quickly and efficiently as they did. Having experienced something they experience all the time, I have more respect and admiration for police than I did before. Even though they are prepared and armed, if the guy had a gun yesterday, the story would've been different. Police help the community dealing with dangerous people and situations like this all the time and it's serious stuff."
Connecticut Post story here.
There are times Bill's not afraid to mix it up, and on a few occasions caused me much trepidation like in 2000. Bill was a candidate for State Senate. I was his campaign manager. Sitting in campaign headquarters on Madison Avenue I watched as Bill drove his rag top into the parking lot. Horns sounded, followed by prehistoric noises. The future Sonya Finch (the campaign fundraiser a few years before she and Bill married) also took notice from the back entrance of the headquarters. "Lennie," she said, "you better get over here."
I poked my head out the door. There was Bill nose-to-nose in the parking lot with a young guy who was monstrous in size. Except it really wasn't nose to nose. Bill's about 6'2 and slight. This guy was about 6'6″ and built like a vault door. They were jabbering back and forth. Fingers in faces. Bill didn't back down. Sonya and I are yelling, "Bill, c'mon, cool it." Jesus, Bill, then a member of the City Council, was on the verge of being elected to the State Senate. I didn't want the campaign to end like this.
"Hey kid, don't pay attention to that silver-haired guy. He doesn't know what he's saying!"
After a while the guy was so bewildered at the sight of a guy twice his age yelling at him that he backed off. Sonya and I tried explaining to Bill that discretion is the better part of valor.
"Bill, what's wrong with you?"
"He cut me off!"
"Good grief, he could have cut your head off with one punch."
"What's that got to do with it!"
The world, according to Bill.