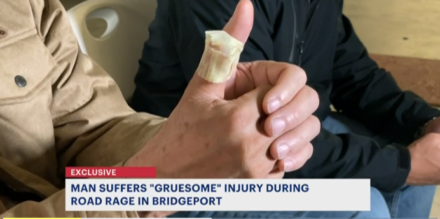 Mike Tyson bit off a piece of Evander Holyfield's ear in the squared circle. Thursday morning, Francisco Navarro was arrested for amputating Gerardo Febles' thumb in a road-rage brawl.
Febles was attacked Thursday morning at Olive Street and Park Avenue as he was driving to get a tire fixed, according to News 12's Frank Recchia. Inexplicably, Navarro exited his vehicle and confronted Febles, biting off the top portion of the victim's thumb.
Navarro was charged with first degree assault.
A GoFundMe page was created to help cover medical costs.
Full News 12 feature here.