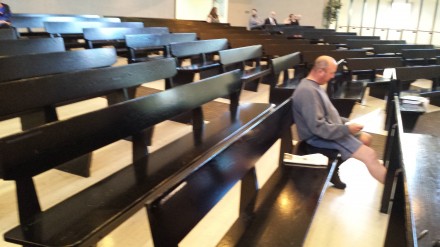 On April 21, this happened: the City Council's Budget and Appropriations Committee conducted a public hearing on the city's spending plan and two taxpayers spoke. On Tuesday, now that they've received their tax bills, angry taxpayers are trying to rally a protest for the City Council meeting. Isn't it better to scream before the budget is approved?

OIB story from April public hearing: Well, two speakers are better than none, right? At 6:07 p.m. on Thursday Scott Burns, co-chair of the Budget and Appropriations Committee, called the meeting to order for the public to speak on Mayor Joe Ganim's proposed $560 million budget. Michael Bottillo, a postal worker from the West Side, stepped up to the microphone. "The mil rate can't go up," he told the council members. "If it does this city will be another Detroit." At 6:17 the public hearing ended. Just one other speaker, citizen fiscal watchdog John Marshall Lee, addressed the council. And that was it. City Hall staffers sitting in the empty pews far outweighed the public speakers.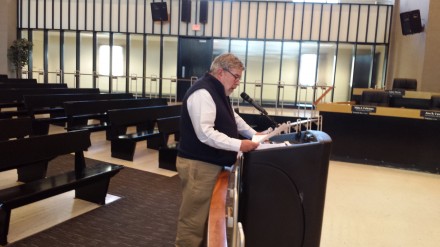 Thursday night was dwarfed by Tuesday's public hearing when more than 200 education advocates filled the council chambers to address school spending. Thursday's public hearing was devoted to city side spending such as police, fire, public works, parks, executive level departments, etc. Finance Director Ken Flatto, Budget Director Nestor Nkwo and Chief Administrative Officer John Gomes were all in attendance to observe the public hearing.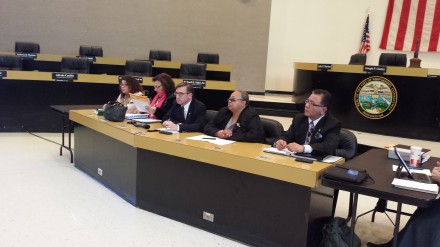 Lee urged the council members to be mindful of spending. "We are under water and sinking," he declared.
Lee's words may very well be accurate, but that sinking feeling apparently has not registered with taxpayers.
The council committee is reviewing Ganim's spending plan. It will make changes and vote on the budget in May before it goes to the full 20-member body for a vote. Ganim will then take a veto review. A final mil rate will be set for the budget year starting July 1.