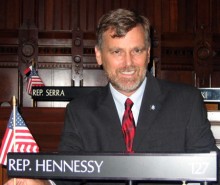 Poor Democratic State Senator Anthony Musto's losing political friends fast. First, State Rep. Auden Grogins refused to participate in a joint constituent office hours with him at the Burroughs Community Center Monday night (they were conducted in separate rooms), now State Rep. Jack Hennessy says he's nonplussed Musto is sucking up to him after Musto was instrumental in killing his proposed government reform bill in the last legislative session barring city employees from serving on the City Council.

Musto, who represents all of Trumbull and portions of Bridgeport and Monroe, is taking heat for leading the charge against the government reform bill co-sponsored by Hennessy and Grogins. The Bridgeport City Charter, approved by voters, prohibits city employees from sitting on the city's budget and legislative body to avoid conflicts of interests such as council members approving their wages and benefits. State law forbids municipal employees from serving on boards of finance, but the city's legislative body also serves as the city's budget authority. City Attorney Mark Anastasi rationalizes it's okay for city employees to sit on the council as a result of this loophole. The bill proposed by Hennessy simply seeks to extend the bill to all budget-making bodies.
Votes in the State House were poised for passage, but Musto, as one of 36 state senators, opposed the bill fearing he would alienate political supporters on the City Council. As a result the bill was never voted out of the House. The political climate changed dramatically in Bridgeport on September 10 when all candidates endorsed by the Democratic Town Committee were defeated in a primary.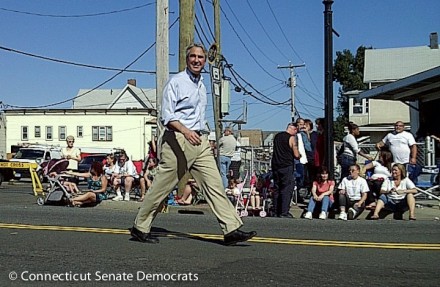 Musto, facing a difficult reelection climate next year, has been trying to attach himself to Bridgeport State House members in good standing including Grogins and Hennessy at constituent office hours. Musto sent out a flier that included Grogins appearing with him, but Grogins says she never committed to a joint appearance. She moved forward with the offices hours, but not with Musto who was grilled Monday night by Bridgeport resident David Walker, former U.S. Comptroller General, about his position on the reform bill.
As for Hennessy, he says he's not made a decision whether he will appear jointly with Musto at office hours to hear constituent concerns in the North End. Hennessy did make one thing clear to OIB about his relationship with Musto.
Anyone who helped to kill his government reform bill "is no friend of mine."