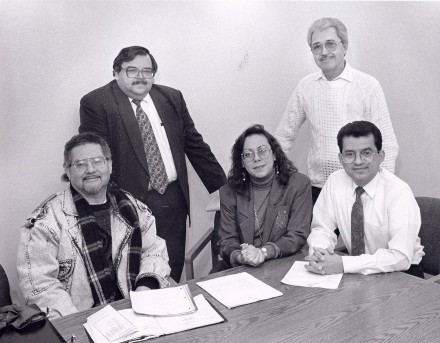 Alma Maya earned her community stripes as a young social irritant recruited by Cesar Batalla, a gladiator in the Puerto Rican community, who was a stick-in-the-eye to powerful interests. Alma, Batalla and Willie Matos made some trifecta.
As much as Alma ponders egression from activism, the weight of involvement pulls her back in.
She served as town clerk for eight years during the Bill Finch mayoral years. Unhappy with Finch, she supported Joe Ganim's comeback for mayor in 2015, accepted as administrative appointment, soured on Ganim's run for governor and other matters and retired from city service.
In 2019, she reemerged with former mayoral contender Chris Caruso on the chief executive ticket of State Senator Marilyn Moore. The surprise announcement of Alma as city clerk and Caruso as town clerk was the highlight of Moore's run coming within a whisker of taking out Ganim in the September primary.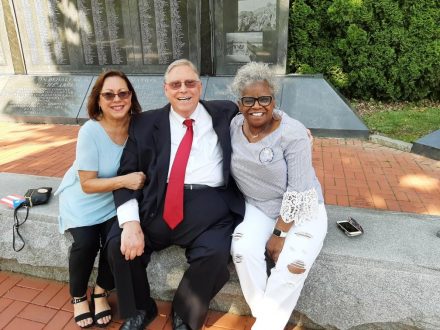 Alma, quite simply, travels to the toot of her own trumpet.
Alma was born in Aguas Buenas, Puerto Rico and her family settled in Bridgeport in the early 1960s. She graduated from St. Mary's Grammar School on the East Side, entering Notre Dame High School on a scholarship, and later attended both Sacred Heart University and Springfield College in Massachusetts. She and her husband, retired Bridgeport firefighter Marcos Maya, have three grown daughters, and reside in the Whiskey Hill neighborhood.
She's held a number of jobs and volunteer positions in the Park City, including teacher's assistant and home school coordinator for the Bridgeport Public Schools; client advocate for the YWCA Battered Women's Shelter; investigator for the Connecticut Human Rights and Opportunities Commission; small business development for the Connecticut Development Administration during Governor Lowell Weicker's administration and executive director for ASPIRA of Connecticut, Inc.
Alma is OIB's latest interview saluting Bridgeport's Bicentennial.
Q. What is your first memory of Bridgeport?
A. My first one was attending kindergarten at Waltersville School, and I learned how to sing "O Christmas Tree!" I didn't speak any English but I learned how to sing "O Christmas Tree!"
Q. What are your ties to Bpt., and what do you do, either work or volunteer work, that benefits the city and its residents?
A. What happened, I tell this to people all the time. People get involved when they get invited, and I got an invitation from (the late activist) Cesar Batalla. It turns out his family and my family came from the same town in Puerto Rico. He said, "Listen, why don't you join us?" It was Americo Santiago's first campaign for state representative. After that, I became one of the group. In fact I was the only woman in the group. This was in the '80s. I liked it. I think it's hereditary. My grandmother was a mover and shaker in her hometown, and worked for Luis Muñoz Marín, Puerto Rico's first governor. It was all because of Cesar. He founded ASPIRA (non-profit advocacy group for Puerto Rican and Latino youth, which was housed in a building at State and Fairfield before it met the wrecking ball). We organized and it took about a year. I was there 13 years. I cried when they knocked it down (for a yet-to-be-built donut shop). It was horrible.
Q. What do you like best about Bridgeport?
A. I love Bridgeport because it's multicultural. Like the restaurants: Italian one place, Portuguese, Haitian, Brazilian, we have everything.
Q. Where is your favorite spot in the city to visit and why?
A. I love East Main Street. I like it because on the weekends, I like to drive up and down East Main Street, there is so much going on, people going in and out of the stores. There's always stuff going on, people everywhere; I love it.
Q. Whats' your favorite Bridgeport eatery and what do you like there?
A. El Coquito, Eddie Reyes the owner and I went to St. Mary's together. It's very authentic. Some Puerto Rican restaurants now have cooks that are not Puerto Rican, and the food tastes different even though they use the same ingredients. He started off with a little ice cream shop, now he's got a restaurant. They make pigs ears, Puerto Rican style, very spicy, I love that. I love the empanadas, and the pernil.
Q. Where do you see the city going?
A. Some people seem to be positive. Unfortunately, I am not positive. I see it and say "Wow, if we only had people in charge who cared about the city." They don't care about the people. It's very disappointing. We have seen a lot in Bridgeport, we know what we could be. We have to have the right leadership, but we don't have it. If our elected officials cared as much about the city as the people who ran non-profits, we would do a lot better.
Q. If you had a magic wand and could make a miracle happen for the city, what would it be?
A. Two things, or three. One would be that we have an elected leadership who cared. Then, economic equity in the city. The best way to fix the city is for everyone to get an education, and for everyone to have a job. You have economic stability, you have kids in school. Also, if I could put some magic in Bridgeport, no guns would be able to be used here. You could pull the trigger, but it would lock. I guess they'll never take guns away, but you'd have a magic barrier around the city so they couldn't shoot.