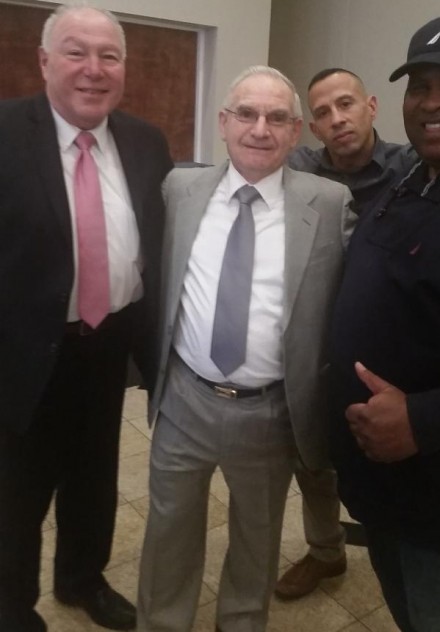 Testa in Italian means head. Thursday night, at his Madison Avenue restaurant, Mario Testa received the votes by acclamation (less one) to once again head the Democratic Town Committee for two more years. He had no opposition. On this Ides of March, the party leader who has been described occasionally by political opponents "little Caesar" experienced no such dagger fate. Last week, primaries in six districts largely went Testa's way for political control leading up to the party chairmanship vote.

Testa's name was placed into nomination by East Side town committee member Wanda Geter-Pataky who addressed the 90-member political organization. "He has earned respect and confidence to be our chairman." Several other members seconded the nomination. With no opposition a vote was called by the temporary chair, former City Council President Tom McCarthy. The vote followed by acclamation (except Black Rock committee member Donna Curran), to enthusiastic applause. Winning another two years Testa took to the lectern to finish out nominations for other party officers and district leaders.
Testa, after thanking the party insiders for another two years, addressed a question that has been posed to him a number of times. Why do town committee meetings take place at his restaurant? The chairman noted other venues charge a $250 fee for hall usage. His restaurant does not charge a fee. "We are here to save money." Mario, of course, is a businessman. Many of the party faithful prior to, or after, events at his restaurant hang out for food and drink at respectable pricing.
The loudest roar of the night, however, was on behalf of the irrepressible Geter-Pataky who's well liked within the party for her warrior-like effort on the campaign trail. While an East Side committee member Geter-Pataky knows the West End as well as anyone and the performance showed in the 130th District where a slate led by District Leader Danny Roach took 8 of 9 seats in a hotly contested race. Former City Councilwoman Curran, who attended Thursday night, was the lone member of the challenge slate to win a seat. She was a quiet no vote against Testa even though he had no opposition.
State Rep. Chris Rosario, who had served as leader in the 136th District, placed Geter-Pataky's name into nomination to replace him, an act seen as rewarding her hard work on behalf of winning districts in last week's primaries. The room exploded into applause with half the members rising in ovation.
Video of 138th District leader vote
What's next for Testa? Compiling a list of Bridgeport party delegates and leveraging the 90-plus members to facilitate 15 percent support at the state party convention in May that would land Mayor Joe Ganim an August primary spot for governor. Without that Ganim's only chance to become a primary player is an intensive petition signature campaign. Testa announced Thursday night he will call a meeting of the DTC to approve his delegate selection.
Testa is jawboning various delegation leaders around the state, particularly cities with larger voting blocs, to free up delegate support for Ganim in exchange for Bridgeport delegation backing. After New Haven, Bridgeport has the largest bloc of votes. A wide open field both for governor and other constitutional offices provides Testa greater flexibility to cut deals. You want our support for attorney general? We want your support for Ganim. So Testa is shopping around for pols who can give him some votes in exchange for Bridgeport's delegate backing, as noted by CT Post reporter Brian Lockhart.
For example, Testa confirmed that state Rep. William Tong, D-Stamford, who is exploring a run for attorney general, just so happened to stop by Bridgeport following last week's primaries to say hello.

"I'm in the business right now of being a peacemaker," Testa said. "They need our votes, we need their votes. That's the bottom line."
Testa wants a casino for Bridgeport. Ironic, however, that Testa may cut a delegate deal with candidate Tong whose treasurer, State Senator Tim Larson, wants to kill the bill before the state legislature. Is Mario that desperate for Ganim delegates?
Afterwards, a number of town committee members sojourned to Dolphins Cove in the East End where school board member Dennis Bradley announced his run for state senate. Aaron Turner and Carolyn Vermont are also eyeing the seat of a retiring Ed Gomes.
Party officers elected:
Testa, chairman
Johanna Dorgan, secretary
Maria Heller, treasurer
Vice chairs, Elaine Pivirotto, Jim Holloway, Aidee Nieves
SGT. At Arms, Anthony Paoletto, Wanda Geter Pataky, Steve Nelson
District leaders elected:
130th, Danny Roach
131st, Scott Hughes
132nd, Mike Freddino
133rd, Tom McCarthy
134th, Dennis Scinto
135th, Steve Nelson
136th, Wanda Geter-Pataky
137th, Lydia Martinez
138th, Martha Santiago
139th, Ralph Ford