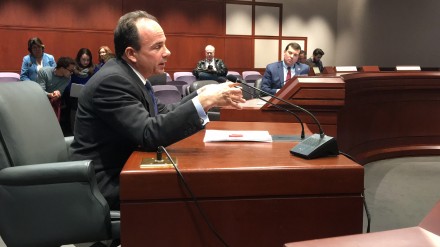 With city Bond Counsel John Stafstrom at his side and a nod to his nephew State Rep. Steve Stafstrom, a member of the legislature's Planning and Development Committee, Mayor Joe Ganim on Wednesday urged passage of a proposal to allow municipalities to bond the unfunded pension liability for the Municipal Employees Retirement System that Ganim says would save millions in debt service payments. In Ganim's prepared remarks that follow he shares background on the issue, with financial restructuring recommendations backed by state leaders.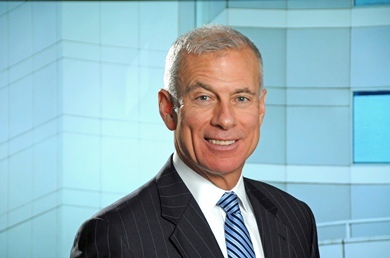 I am here today to testify in support of House Bill 7296 2017 AN ACT AUTHORIZING THE FUNDING OF UNFUNDED ACCRUED MUNICIPAL EMPLOYEES' RETIREMENT SYSTEM LIABILITIES BY MUNICIPALITIES

I have John Stafstrom–our bond counsel–joining me today just in case anyone has technical questions about this bill.

John is probably also well known to many in this building and may even be related to someone on this committee but you never know, that could be fake news.

Let me give you a broad sketch of what we are trying to achieve with this bill and why Bridgeport and potentially other municipalities are in a position to benefit from the new authority contained in it.

In a nutshell, House Bill 7296 would grant Bridgeport and other municipalities legal authority to issue bonds to pay off current remaining unfunded pension liability due to the CT-MERS (Municipal Employees Retirement System) pension plan.

We think by doing so we could simultaneously eliminate a major unfunded pension liability for the city and save taxpayers more than $68 million in debt service payments over the next 26 years.

I am here today to ask your support in passing this legislation–with a couple of small technical adjustments contained in revised language for this bill that I have attached to my written statement that I submitted to you today.

Let me give you a little bit of Background as to why we are in a position to ask for this new bonding authority:

The City of Bridgeport moved Police and Fire Employees into the CT-MERS pension plan in 2013.

A later actuarial analysis showed that the city did not transfer enough assets to cover the cost of these employees and retirees.

In fact, that analysis said we were short about $83 Million dollars of what Bridgeport needed to transfer into the MERS system to cover these employees and retirees.

To cover the cost of this major shortfall, Bridgeport is now required to make annual amortization payments of $7.5 million dollars over the next 28 years–at an interest rate of 8%.

Though the state agreed to defer the start of these payments for a couple of years, it started in the 2016 Fiscal year and represents a staggering cost to the taxpayers of our city.

In fact, when I took office a little more than a year ago my team informed me that the city was confronting a $20 million deficit halfway through the fiscal year.

If you do the math, these MERS Amortization payments represented nearly half of that deficit.

With great appreciation, the legislature and Governor Malloy last year agreed to let the city of Bridgeport have some modest relief from some of those payments for the next two years so we could stabilize our finances and get our house in order.

And that was a real bipartisan effort, by the way. We got tremendous help from Democratic and Republican leadership in getting that Bridgeport pension relief bill through the House and Senate at the end of the 2016 session.

And I thank you all very much on behalf of the city. It made a major difference in allowing us to balance our budget.

With this action and other difficult budget cuts, cost savings measures, and some additional revenue from land sales and debt restructuring, we were able to close that deficit, even ending the fiscal year with a small surplus.

This hard work–and it was very hard–was rewarded a few months later by three major Wall Street bond rating agencies.

Moody's, Standard and Poor's and Fitch looked at our budget in balance with another projected surplus for the current fiscal year.

They held Bridgeport at an A rating and two out of three of them even improved our outlook from negative to stable.

Given the fiscal conditions in our state, for Bridgeport to hold firm in our credit rating is a very strong endorsement of my administration's efforts to get the city's finances in order.

But one of the questions consistently asked by these rating agencies in our conversation was–what are you doing about your unfunded pension liability?

These MERS amortized payments are a big chunk of Bridgeport's unfunded pension liability.

So, my team looked at this and we came up with an innovative solution.

With our strong credit rating recently endorsed by the Wall Street agencies, we are in a unique position to go to the bond market and borrow money to pay off this MERS unfunded liability.

We would pay it back over the next 26 years, following the exact amortization schedule we currently have for the MERS payments.

We think this would be a major improvement for the city of Bridgeport for the following reasons:

We estimate that the interest rate on the taxable bonds we want to issue to pay off our unfunded pension liability will be in the 3.5% – 4.5% range–a major difference from the 8% we are currently paying on the unfunded liability.

We have had actuarial analysis done on our proposal and the estimated savings on this are substantial.

Our actuaries estimate the savings Bridgeport taxpayers will realize by taking this step will be approximately $2.8 Million dollars per year, for the next 26 years.

This is real savings that as a city we could use to shore up our other unfunded pension liabilities.

We are confident this would absolutely help future credit ratings for the city of Bridgeport.

By doing this, Bridgeport would also make the municipal employee retirement fund whole and eliminate any unfunded pension liability in one lump sum.

This is why we have the won backing for our proposal from the State Comptroller's office. We also have the support for this proposal from the Office of Policy and Management, which has reviewed our plan thoroughly.

In addition to making sense for the Municipal employee retirement fund and the city of Bridgeport's budget and credit rating, you should also know that Bridgeport is in a good fiscal position to take out these new pension obligation bonds.

That's because Bridgeport's debt service burden is scheduled to decline dramatically in the next five years, and decline even further another 10 years after that.

HB 7296 gives us the legal authority to issue pension bonds to cover unfunded liability for MERS. And, it is not limited to the city of Bridgeport.

Any municipality that currently has unfunded pension liability for MERS could conceivably take advantage of this bill if it becomes law.

I also want to stress that this legislation DOES NOT TOUCH Bridgeport's current obligation to pay into MERS for our current employees and retirees.

Bridgeport currently pays approximately $32 Million annually to cover the pensions of present and future retirees and those base payments would not be impacted by this legislation.

In fact, we are statutorily and contractually obligated to fully fund our commitment to MERS, and we will continue to do so.

In closing, I want to thank you for your time in hearing me about this legislative proposal.

I urge you to support this bill–it is straightforward, and it makes a lot of sense, and it can really help cities like Bridgeport become more financially stable.

I also want to point out that we have consulted with our state Treasurer Denise Nappier's office on this, as well as the leadership of both Republican and Democratic legislative caucuses in the Senate and the House.

All those we have consulted with agree with our approach and we very much appreciate your attention and consideration of our proposal.

So thank you again, and I am here to answer any questions you might have.

I also have with me our city's bond counsel to answer any specific or technical questions if there are any.