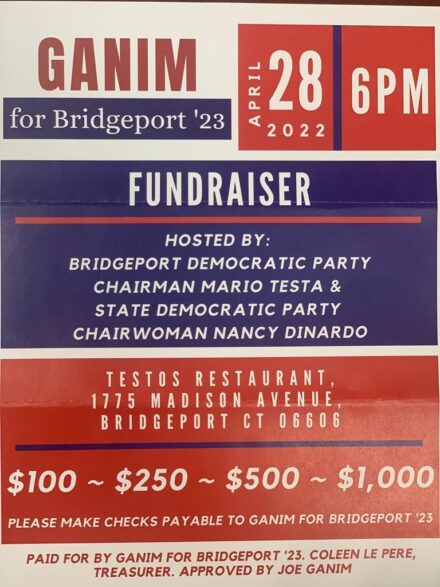 Here we go. Mayor Joe Ganim's first fundraiser for the 2023 municipal election cycle is set for April 28 at the Madison Avenue restaurant of Town Chairman Mario Testa who is co-hosting the event with State Democratic Chairwoman Nancy DiNardo.
Attendance at the first fundraiser should be hundreds strong backed by the usual donor base of city employees, lawyers, contractors, developers and the business community.
Ganim has no announced opponent 17 months from a potential Democratic primary. State Senator Marilyn Moore, retired Superior Court Judge Carmen Lopez, business consultant Kelvin Ayala and State Senator Dennis Bradley are among the names of possible opponents floated by party regulars. Bradley's political future will come down to his federal trial scheduled next month for alleged violations of Connecticut's Citizens Election Program of publicly funded races during his run for state office in 2018.
If Moore challenges Ganim again after losing a close primary in 2019 it will not happen until early next year after her own reelection this November.
This is a key year for Ganim to take advantage of the power of incumbency to make things happen. Lately, he's been paying attention to business, visible at a number of media opportunities including the environment, development, youth programs and premium pay for Covid workers. The tax rate will remain steady this budget cycle.
The Police Department has been a toothache for Ganim on a number of fronts. Key will be his police chief appointment later this year with a national search process now underway. Addressing staffing shortages and resolving the next union contract need attention.