For years the city's legislative delegation has been criticized for its lack of harmony to drive home more state dollars. This latest session seems to be a different story. Surrounded by state legislative leaders Martin Looney and Brendan Sharkey on Tuesday, Mayor Joe Ganim thanked the city's legislative delegation for its hard work rescuing millions in state funding that had been on the chopping block to help fund the city budget that begins July 1.

Several members of the city's legislative delegation including state senators Marilyn Moore and Ed Gomes attended the press conference. Key pieces of legislation benefiting city taxpayers included capping automobile taxes at 37 mils, additional revenue to urban areas coming from a portion of state sales tax receipts and state reimbursement to cover a larger share as a result of tax-exempt properties such as hospitals, colleges and state buildings.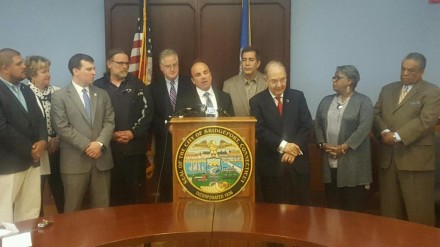 Sharkey and Looney address the legislation that benefited the city, and the working relationships that made it happen, in the video attached. Moore and Gomes share their perspective about the close working relationships. Gomes addresses the work required to restructure city pension payments that saved the city millions of dollars for the upcoming budget year.
When taxpayers receive July 1 bills Ganim says most homeowners will receive a cut or stay about the same with businesses absorbing the larger hit in a revaluation year. The City Council will set the tax rate in June which will likely be north of 50 mils. The immediate break that taxpayers will see is a reduction in car taxes. The state will reimburse the city the revenue difference as a result of the lower tax rate on cars.