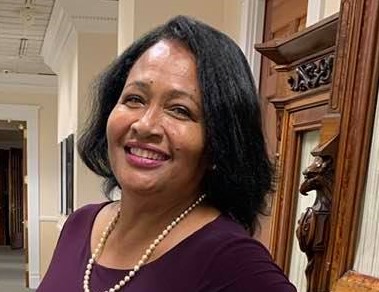 Carolyn Vermont is a ubiquitous presence around the Park City. She serves as the Mayor's Community Liaison for the City of Bridgeport where she chairs the Mayor's Task Force on Gun Violence Prevention & Intervention and also Bridgeport Community Collaborative For Youth. She also held the position of Director of Urban Initiatives for CT Against Gun Violence, and had worked with a variety of non-profits across the region. Carolyn received her Master's and Bachelor's Degrees from Fairfield University. She currently volunteers as Trustee of Rotary Foundation, and as President of Rotary Club of Bridgeport and is a former head of the local chapter of the NAACP.
She's OIB's latest interview in our salute to Bridgeport's Bicentennial.
Q. What is your first memory of Bridgeport?
A. My first memory of Bridgeport was the day that I arrived from Jamaica, West Indies. I remember arriving at JFK Airport in New York and headed straight to Bridgeport. I had heard so many wonderful stories about America from relatives living abroad. Our house in Bridgeport was very different from our homes in Jamaica. The house was situated on a corner lot with a beautiful yard. Families lived next door and across the street. In Jamaica, we had a lot of land with our house, my grandparent's house, my uncle's house and other houses where relatives lived. The post office, where my mother served as the postmistress in addition to our family shop, was on the same land. Everyone in our town back home was related by blood or marriage. There were no strangers living in the midst. That was my understanding of community. I felt like I was starting over in life when I arrived in Bridgeport. My family was here but I had to make new friends. I started developing a true sense of neighborhood. Those new friendships that I developed back then are still strong today. Many of my friends from the South and other Caribbean islands share similar memories.
Q. What are your ties to Bpt., and what do you do, either work or volunteer work, that benefits the city and its residents?
A. On a professional level, I serve as the Mayor's Community Liaison for the City of Bridgeport. My position provides the wonderful opportunity to collaborate with some people who are making a positive impact on the Bridgeport community. I love that I have the opportunity to share in the celebrations and challenges of the residents. On a volunteer basis, I currently serve on the Board of the West Indian American Association of Greater Bridgeport. Each year, we hold a Caribbean Jerk Fest in Bridgeport which attracts over 5,000 guests from different cultures. In addition, I serve as a Trustee for Rotary Foundation; Fairfield University Graduate School of Education and Allied Professions Advisory Board; Kolbe High School Board of Directors; Board Secretary for Habitat For Humanity; Public Policy Chair for National Coalition of 100 Black Women-NHM Chapter; FCCF Bridgeport Public Housing Resident Support Fund Advisory Board; Parent Leadership Training Institute Civic Design Team; and Shepherd's Mentor. I also volunteer with many other organizations. All the professional and volunteer work that I do benefits the Bridgeport community on different levels. Growing up, I benefited from many organizations in Bridgeport such as Youth Bridge that was led by the late James and Loyse Tisdale, Upward Bound at Fairfield University and NAACP Youth Council. I especially enjoy serving as a mentor for Shepherd's. I have been blessed with some wonderful mentors throughout my life. Giving back to the community is always a priority for me. Throughout my life, I admired my mother's volunteerism. She was always opening doors for others.
Q. What do you like best about Bridgeport?
A. I love the racial and ethnic diversity that Bridgeport offers. Bridgeport is comprised of so many people from so many backgrounds and they contribute so much to Bridgeport. As a first-generation immigrant, I especially enjoy meeting people from other countries and learning about their culture. In Jamaica, my teachers looked like me, the Prime Ministers look like me, the bank presidents look like me, the people on the money look like me, so I have representation. Although we have a long way to go in America to improve race relations, I see potential in Bridgeport. I notice a shift in leadership roles for people of color in government, education, corporation, nonprofit and other areas. On a national level, I am especially proud of Vice President Kamala Harris. Our first female in that position is the daughter of Jamaican and Indian immigrants. Locally, I see people from different racial and ethnic backgrounds continuing to mentor the younger generation and providing opportunities for them. Various groups are focused on the continued work for the rights of the disenfranchised and the marginalized. They are working to achieve racial and gender equity. Together we are creating a city of inclusion, and a sense of belonging for all. My involvement with New American Leaders provides the opportunity for me to network and support other immigrants as they prepare for leadership roles.
Q. Where is your favorite spot in the city to visit and why?
A. I absolutely love Seaside Park. I go there as often as possible to just sit by the water. It makes me think of being back home in Jamaica. I also feel a sense of peace by the water.
Q. What's your favorite Bridgeport eatery and what do you like there?
A. I love Jamaican food!!! I started eating at Rootsman Kitchen in the early nineties when I worked at the University of Bridgeport and I still love the ackee and saltfish breakfast among the other meals there. There are other nice restaurants where I love to eat as well. In addition to West Indian food, I love soul food, seafood, and Italian food. My office is within walking distance to Grill 11 Jamaica Restaurant, Miss Thelma's Soulfood, Metric Bar & Grill and Ralph 'n' Rich's. Our weekly Rotary meetings are held at the Holiday Inn where I get to enjoy the food there too.
Q. Where do you see the city going?
A. I see the city moving forth with newfound energy, and more entrepreneurships with solid hard work. Like most urban cities, we are dealing with a lot of stressors. However, I have witnessed so many people working hard to make life better for Bridgeport residents. I am especially proud of the young adults and youth who are speaking up and taking on leadership roles. Many of them have opened small businesses. They are not waiting on others to make things happen for them, they are boldly taking on these initiatives. Since the beginning of this COVID-19 Pandemic, residents from all walks of life have stepped up to ensure that the basic needs of others are met. On the other hand, many of my close friends have relocated to Atlanta, Charlotte, Los Angeles, and other big cities. Even though they were born and raised in Bridgeport, they wanted to experience life in another city. I will likely stay in Bridgeport until I am ready to move back home to Jamaica. I have family and a great network of friends here. I share a strong bond with my pastor and church family at Messiah Baptist Church.
Q. If you had a magic wand and could make a miracle happen for the city, what would it be?
A. If I had a magic wand, I would cover Bridgeport with love. Imagine if we all loved each other, we would have less poverty, racism, prejudice, crime, and hate. Love is the foundation of our ability to shape change and create the world we want.