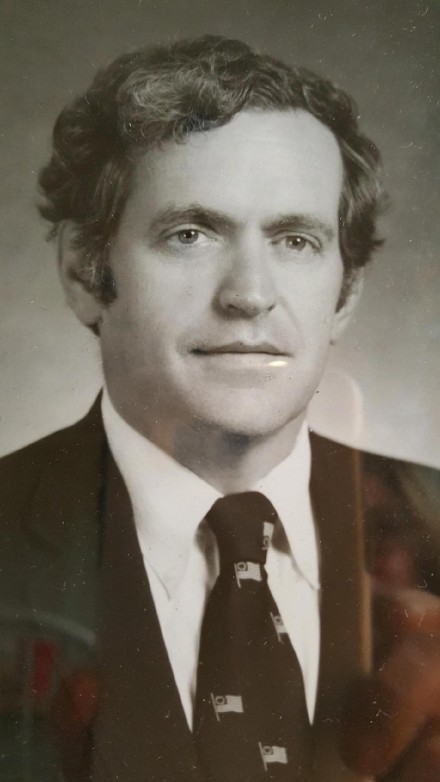 Howard T. Owens Jr., the lovable eccentric whose endearing gait patrolled the corridors of the Connecticut State Capitol, several state court houses and left a mark on city politics for decades died early Tuesday morning. He was 83.

"If Howard was your friend he was there for you in good days and bad," says his friend of 50 years William J. Carroll whose family has a long civic and business history in Bridgeport. "He never wavered. Behind that wry smile and impish grin was one smart guy."
Owens was a graduate of the College of the Holy Cross and Vanderbilt School of Law. He was a young assistant U.S. attorney for the District of Connecticut before his decades-long legal practice at Owens & Schine, then in Bridgeport.
Owens became a significant figure in city politics following his election to the State Senate in 1974. As the 1980s approached he was clearly mayoral timber often pushed to run by Democratic political operatives beyond his comfort level for the city's top municipal office. A moniker ensued–if not for capturing his actual political skill set–that Owens himself laughed off heartily, "Howard the coward."
Often Owens declared it's smarter to stay out of that "political pot of blood."
To both acquaintances and friends alike Owens' unkempt look often resembled something like an unmade bed, it was part of his charm coupled with an unforgettable verbal staccato, "Yeah, right, yeah, how ya doing?" a handshake tucked close to his body, with a curious twinkle that belied vast legal, political skills and accomplishments.
He loved in sharing old-time political stories, the personalities, the guys and dolls of the city. He knew from experience as well those political wars, be it intra-party battles or contests with city Republicans during an era when the GOP was a relevant entity in city elections.
His back and forth electoral swings with Republican Angelina Scarpetti in the 1980s always placed Connecticut's 22nd State Senate District in play.
In 1984, during the presidential electoral landslide of Ronald Reagan, Scarpetti defeated Owens. Two years later Owens regained the seat. In 1988 Scarpetti took it back and held on to it until defeated by Democrat Bill Finch in 2000.
As the 1990s progressed Owens positioned himself for the state bench. His time came in 1998, in his early 60s, when appointed a judge on the Superior Court.
Although a state judge, Owens often stepped up for friends in need. Such was the case with Paul Pinto, son of the late North End district leader Richard Pinto with whom Owens had a close relationship. Paul Pinto had been charged in the federal corruption probe of Joe Ganim that led to the mayor's conviction in 2003. In the summer of 2003, after cooperating with the government, Paul Pinto stood before the stern federal judge Janet Bond Arterton to take his medicine. It's rare for a sitting judge to seek leniency on behalf of a defendant in another judge's courtroom. Addressing the court Owens reached back to the friendship with the father in the cause to help his son. Court observers who were there maintain Owens' moving words shaved upwards of six months off Pinto's sentence. Arterton gave him two years.
As a judge himself Owens presided over some of the most expensive and highest profile divorce cases in state history.
Such was the case involving Howard Sosin of Southport who founded AIG Financial Products where he and his wife Susan owned the stately $16 million mansion loaded with fine art, and 14 servants who occupied an adjacent house worth a cool $5 million. The Sosins were classic jetsetters.
Susan Sosin began jetting around so much on her own that her husband had wondered if she was having too much fun. One check of a computer hard drive at the house was all that Sosin needed. Hundreds of emails revealed Susan's tryst with a married man that started during a flight to China in 2000.
Howard Sosin filed for divorce and Susan didn't give an inch. The case went to trial with Owens the presiding judge. Owens, although chastising Susan's flings, ("The parties' marriage has been undeniably marred by the defendant's infidelity") granted her the largest award in a Connecticut divorce case gone to trial. The assets to sort through were so staggeringly extensive Owens needed 50 pages to complete his memorandum of decision.
Howard Sosin got $89 million in bank accounts, the $16 mansion, 10 cars and $22 million in fine art. She walked away with $31 million in cash, $7.6 million in antiques, artwork and jewelry, the $3.6 million Manhattan apartment and $2 million Utah ski house.
Working out of the Bridgeport court house, Owens also presided over the divorce of Jim Nantz, the heralded CBS sportscaster, who was ordered to pay nearly $1 million a year in alimony and child support.
Owens resided in the Brooklawn section of Bridgeport with his wife Ann. They have four children: Caroline Owens Crawford, Howard Thomas Owens, Paul Owens and Martha Owens.
Calling hours will take place Friday 4 to 8 p.m. at Larson Funeral Home, 2496 North Avenue, Bridgeport. Funeral services Saturday 11 a.m. at Egan Chapel, Fairfield University.