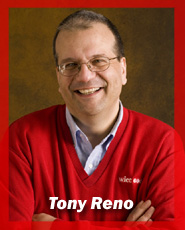 Tony Reno is good company. Has been for a morning radio audience of tens of thousands on 600 WICC–a Bridgeport regional institution since 1926–for 13 years. In bed at 8 p.m. up at 1:30 a.m. for a 5 a.m. show, Reno is cheerful, caring, compassionate and all those things breezed through the station's transmission towers on Pleasure Beach and into homes, cars and businesses.
This bizarre beast called Covid-19 has bitten millions in so many ways. Radio can be a schizophrenic industry during the best of times, throw a strength-sapping virus into the national economy that powers advertising revenues and it's going to knee-cap an industry's bottom line. When businesses shut down, the advertising flow falters.
Reno, like so many others, is out of work not for performance, but for an economy-killing virus.
Last Friday he was let go along with more than one dozen others by the flagship that owns WICC Connoisseur Media. For Reno who loves radio and also hosted the Sunday morning Italian House Party show it's more like arrivederci–see you soon–than goodbye
"I came to WICC in 2007 and felt like I belonged right away," he said Wednesday morning. "The best part about the last thirteen years was the people making me a part of their family. Covid-19 had affected everyone and it caught up with my broadcasting industry. My termination was not performance related. It was budget cuts pure and simple. I want to say thank you to the public for making my career a blast this far. This is not the end for me. Thank you to Connoisseur Media for giving me this opportunity. I look forward to being on the air again one day. I hope you will welcome me back into your homes."
Meanwhile, let's all see Tony soon.
Drop Tony a line at caguarino@optonline.net.