Here's a novel political thought: a Republican gubernatorial candidate paying attention to Bridgeport.
In campaigns, winning is relative. Connecticut's cities buoy statewide Democratic candidates. Winning for a Republican is all about shrinking Democratic margins in urban areas. Forget about the GOP collecting a third of the vote in cities, but is 25 percent attainable, instead of high teens.
Execute that based on recent returns and now the Republican candidate for governor is at the goal line.
Both Democratic and Republican strategists in Connecticut tend to run broad-stroked, cookie-cutout races, eschewing boutique campaigns to beckon voters. They spend little time examining the nuances of urban issues and interests. As a result, opportunities are missed because candidates and campaigns don't connect on a personalized level. It's not about throwing money at something. It's about marrying the money to a message
Republican candidate for Governor Bob Stefanowski is a financial supporter of Harry Bell's The Color Of Positive Thought Organization which seeks to empower young people with life skills. Stefanowski says he got involved in Bell's organization before he had made a final decision about seeking another run for governor.
Cynics will weigh in about the veracity, as noted in a News 12 report about the relationship. How is this any different than a business concern trying to build good will within a community after a corporate takeover?
Who cares as along as it benefits a community.
In May, Stefanowski will be endorsed by party regulars to challenge Democrat Ned Lamont. If Stefanowski and his campaign handlers craft a personalized message in Bridgeport, his numbers will improve, especially if Lamont takes city voters for granted.
2018 Bridgeport results for governor: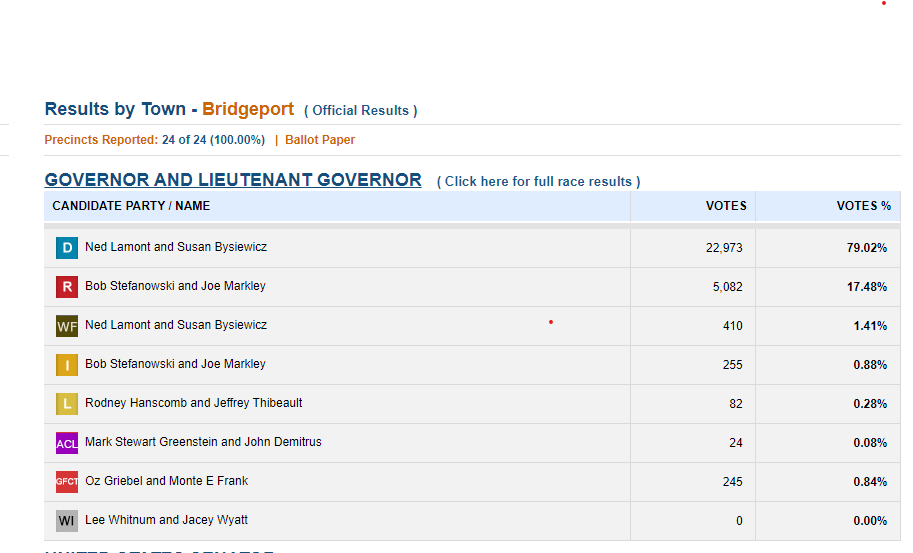 From Frank Recchia, News 12:
Democrat Harry Bell, founder of The Color of Positive Thought Organization, has found an unlikely supporter for his foundation–Republican gubernatorial candidate Bob Stefanowski and his wife, Amy.

Bell tells News 12 over the past few years as private citizens, the Stefanowskis have become the biggest supporters for the organization.

The Stefanowskis have made appearances at many of Bell's events, causing some Democrats to raise the eyebrows. Perhaps it is because there is a governors race and Bridgeport mostly supports incumbent Gov. Ned Lamont.

… "We started three or four years ago before Amy and I ever decided we were ever going to run for governor again," says Stefanowski.

Stefanowski says with their blue-collar roots, everything he and his wife do is to help people.

"It's the right thing to do," he said.

"We have youth dying every single day," says Bell. "I can't worry about where I get help from when I have youth next to me that's scared to go certain places without me."

Democratic State Sen. Dennis Bradley says Stefanowski should not be criticized for being charitable, especially if he has always been that way.

"I don't see any political pandering," says Bradley. "I see this as a person who wants to make a difference."
Full piece here.