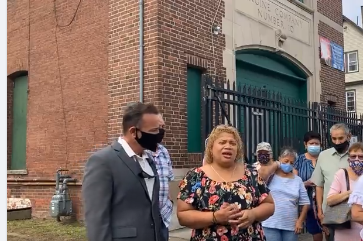 Heading into the 2023 municipal election cycle a fissure between Mayor Joe Ganim and a City Council majority over the timing of charter revision that guides city regulations creates intrigue as the mayor's opponents try to craft issues that resonate with the public.
Ganim wants to put off a vote on charter examination until 2024–a presidential year–to provide more time for a thorough review that avoids controversial questions in a municipal election. A council majority wants to create a charter commission pronto to place questions before the electorate November 2023 that bolsters its authority. They've come up short of the two thirds votes necessary to empanel a commission.
Council President Aidee Nieves argues Ganim wants to hold on to power. He wants to hold, she wants to gain. Is there a compromise?
The last charter vote in 2012 was contentious when voters blowtorched a call for a mayoral appointed Board of Education.
Council leadership seeks to buttress its authority. What could that be? Hiring its own legal staff, converting council stipends into salaries, the council president chairing meetings instead of the mayor. How about a four-year term for council members instead of two-year terms?
There's been no specificity, just general floating of areas to consider.
You see, you turn this over to a nine-member commission and now it can take on a life of its own. Be careful what you wish for especially if it wakes up an electorate anathema to dealing out more power while council members themselves are on the ballot. It could trigger a wake-up call for more council primary opponents.
Historically voters are loathe to giving the legislative body more power. Case in point a four-year term. Prior to 1998, charter questions proposing four-year terms for mayor and City Council were rejected by voters. Polling showed the council dragged down the question. Electors were not opposed to a four-year term for chief executive, but icy toward the legislative body.
In 1998, a state election year, voters approved a charter question granting four-year terms to mayor, city clerk and town clerk. It helped that Ganim was a popular mayor. The question of the council was not included.
And that is the central question that may drive the issue. What is the mayor's current standing with the electorate? Is it better than 2019 when he escaped a primary scare from State Senator Marilyn Moore who appears ready to jump in again in early 2023?
Ganim's betting yes based on core issues such as taxes, development, public safety. Nieves ("It's not gonna be an easy year for the mayor prior to his election," threatened Council President Aidee Nieves, often a Ganim ally, this week) and Councilman Ernie Newton ("But that's the battle he chose") are betting no.
A majority of electors won't care about this power tiff between the council and mayor if Ganim's in good standing. If not, this could create an opening for opponents, depending how they frame it and galvanize opposition.
Ganim's only formally announced opponent, ex aide John Gomes, agrees with Ganim that a charter assessment vote should be put off until 2024. Lamond Daniels, exploring a run, and Moore, considering, say charter questions should be on the ballot in 2023.
The 2023 battle cry is driven, in part, by leadership of the anti-Ganim community group Bridgeport Generation Now Votes that supported Moore in 2023 and has built an alliance with Nieves.
Whose dominion will sway?