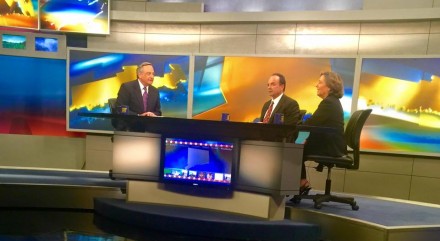 The final two debates before the September 16 Democratic primary will take place Thursday morning at 8 at Housatonic Community College hosted by the Bridgeport Regional Business Council and Thursday night at Mount Aery Baptist Church, 73 Frank Street, from 7 to 9 p.m. organized by Congregations Organized for a New Connecticut.

The Housatonic forum will be in Beacon Hall Events Center, 900 Lafayette Boulevard.
Wednesday morning Joe Ganim and Mary-Jane Foster participated in a mayoral forum hosted by News 12 Connecticut News Director Tom Appleby. Mayor Bill Finch did not attend. Last week Ganim and Foster did not participate at a forum at Cathedral of Praise in the South End hosted by the faith-based group FaithActs for Education. Campaign operatives for Ganim and Foster had concerns the forum sponsor with members supportive of charter schools was teed up for Finch who backs them.
According to a news release for the Mount Aery forum, more than 300 CONECT clergy lay leaders and guests will "press for a series of changes and reforms to the Police Department, a continued commitment to its campaign against gun violence … and redoubled effort to fund the Bridgeport schools."
Co-chair of CONECT Rev. Anthony Bennett, pastor of Mount Aery Baptist Church and Rev. Bernadette Hickman-Maynard, co-pastor of Bethel AME Church, will co-chair the forum assembly.