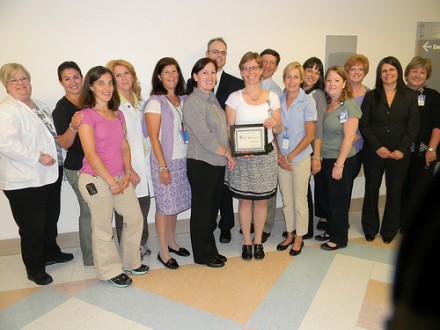 Physical therapist Vikki Winks is a certified STAR Clinician and supervises four busy outpatient rehab clinics at Bridgeport Hospital. Winks has worked with many cancer patients since obtaining her lymphedema therapy certification in 2003. She shares this essay about the Sandie Taubin STAR Program and the training and education in cancer rehab offered to clinicians and providers to craft treatment programs for cancer survivors.
Bridgeport Hospital has raised the bar on survivorship care with the Sandie Taubin STAR Program


Thankfully, nowadays, with the advancements we see in cancer diagnosis and treatment, cancer no longer carries the magnitude of threat that it did even 20 years ago. Did you know that there are more than 171,000 cancer survivors in Connecticut alone? And this number is growing every year. There are many reasons for the increased number of survivors–our aging population, earlier cancer detection, improved cancer diagnostic methods, more effective cancer treatments, and improved clinical follow-up after treatment.

Cancer treatments however, bring inherent side effects and problems–including those of a physical, emotional, and cognitive nature. These issues are very often great barriers to survivors' abilities to return to the quality of life and activity level they had before their cancer diagnosis. Cancer treatments can be debilitating and the resulting symptoms have the potential to plague survivors for the rest of their lives.

Cancer rehabilitation enables survivors of all types and stages of cancer to maximize healing after treatments and resume active lives–whether they are in remission, living with cancer, or cured.

Bridgeport Hospital's Norma F Pfriem Cancer Institute and Ahlbin Rehabilitation Centers have just launched the Sandie Taubin STAR Program–the first comprehensive cancer rehab program of its kind in Connecticut. The program uses a multidisciplinary approach, whereby rehab professionals (PTs, OTs, Speech therapists, nutritionists, and social workers, among others) work as a team and design a treatment plan for each patient, according to his or her individual needs. These services are typically covered by health insurance.

The main goal of the Sandie Taubin STAR Program is to restore the patient's quality of life to an optimal level both during and after cancer treatments. Cancer rehabilitation helps survivors increase strength and energy levels, addresses issues of pain and scar restrictions, and improves daily function and well-being. It can help with problems relating to cognitive function, swallowing, speaking, mobility, fine motor skills, and gait or balance.

Although there are over 13 million cancer survivors in the U.S., and despite the reality that cancer rehab positively affects the lives of cancer survivors in countless ways, it has not been the standard of care in our hospitals and cancer centers.

Dr Julie Silver, an assistant professor at Harvard Medical School and a breast cancer survivor (who was not given rehab care after her own surgery and chemo), founded Oncology Rehab Partners with her business partner Diane Stokes, to make cancer rehab accessible to survivors across the country. Their STAR Program Certification (Survivorship Training and Rehab) offers training and education in cancer rehab to clinicians and providers–so they can address the unique physical and emotional needs of survivors of all types and stages of cancer.

Fortunately for survivors everywhere, cancer rehab is spreading. Hospitals in 40 states have received their STAR Program Certification, and by the end of 2012 there will be STAR Programs in all 50 states. Hopefully, Bridgeport Hospital's Sandie Taubin STAR Program (the first STAR Program in the country to be funded by a private donor in memory of a loved one), will lead the way for other hospitals in CT to implement cancer rehab, so all survivors in this state will have help healing from treatments.

Enduring the side effects and aftereffects of cancer treatments has always been regarded as a normal consequence of the process–something that cannot be helped. The great news is that this is not the case. Through cancer rehab programs like the Sandie Taubin STAR Program, much can be done to help survivors recover more fully after treatments and feel their best. This makes it possible for their lives to get back to normal, for families to function again, and for survivors to return to work, without the short and long-term health problems that can result from poor or insufficient healing.
For more info about Oncology Rehab Partners and STAR Program Certification: www.oncologyrehabpartners.com
For more info about the Sandie Taubin STAR Program at Bridgeport Hospital: www.BridgeportHospital.org