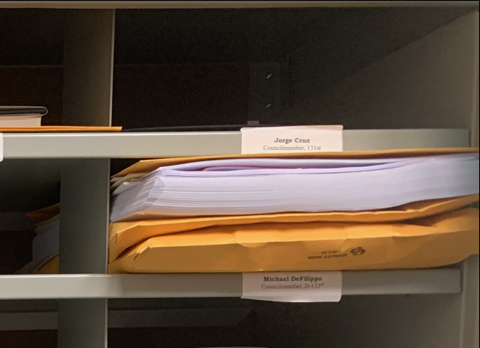 Condemned Monday night by several political insiders for stripping committee assignments from three City Council members she asserts have caused chaos, the head of the legislative body Aidee Nieves is showing no inclination of backing down. In fact, she's digging in, highlighting some of the reasons she took action.
Described as a "bully" with "limited mindset" by former Council President Lisa Parziale, Nieves listened during the teleconference public speaking session taking it all in for detaching Maria Pereira, Michael DeFilippo and Michelle Lyons from committee assignments.
On Tuesday Nieves fired off a text image to OIB–the stuffed mailbox of councilman Michael DeFilippo, the recently deposed co-chair of the budget committee–with a note, "Thought you'd like to see the mailbox of one of the hardworking budget chairs who I had to replace."
DeFilippo, charges Nieves, hasn't picked up his official council mail in the Margaret Morton Government Center in three months.
DeFilippo doesn't deny this. His rejoinder, "Dude, some of us have jobs during the day," adding all the info jammed into his inbox is also sent electronically, so he's not missing any city business that comes before him, presumably. DeFilippo, a young property manager who owns several multi-family residences in the city, is a disciple, so to speak, of Democratic Town Chair Mario Testa. DeFilippo for years has bartended at the chairman's restaurants.
How in holy absentee ballot heaven can the chairman allow his boy to exude such independence on the council? Testa cheers a little political tension. Pols going at each other's throats for the sport of it is nirvana. Now, if something's on the line for the chairman, that's a different story. "Michael, letsah have a little talka."
Meanwhile, let them go at it. I spank you, you spank me, I spank you again will likely carry on among the 20-member legislative body. Such love.
If you missed it, Parziale's remarks from Monday night.