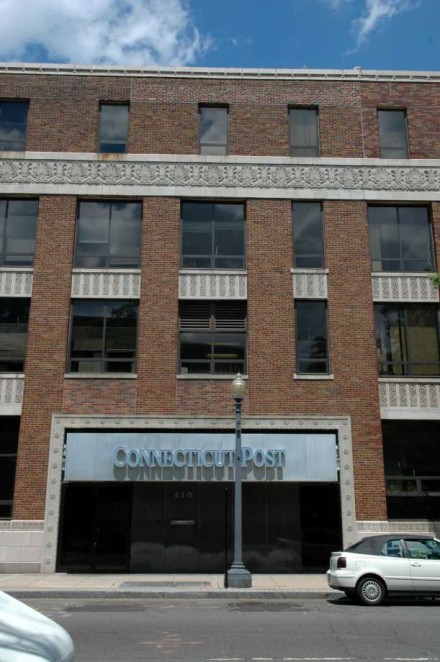 A Downtown fixture since 1928, the building that houses the Connecticut Post advertising and editorial offices and prior to that predecessor papers the Post and Telegram is for sale, according to a story released by the Hearst Media Group that owns the Post and daily papers in Greenwich, Stamford, Norwalk and Danbury. The sale of 410 State Street will raise further questions about coverage commitment to the state's largest city, but Group Publisher Paul Barbetta asserts in a statement "Our commitment to the communities we serve will not change. Our news coverage remains strong and vigilant. Advertisers will continue to be served by comprehensive print and digital options to grow their businesses. Only our addresses within the communities we cover will change." Hmmm, wonder how the editorial staff feels about this? See story here.

The article does not specify where it will house the news operation "though it plans to maintain a local editorial and advertising presence in both communities." The building that houses the News-Times in Danbury is also on the block.
Like so many news organizations gutted as a result of corporate journalism cutbacks, local news coverage has been reduced dramatically from the days the paper was family owned before its sale in the late 1980s. The Bridgeport Post became the Connecticut Post in 1992, but news coverage is largely concentrated in Bridgeport and immediate suburbs, although in recent years there has been an increased sharing of stories among its configuration of southern and western Connecticut daily papers.
The Connecticut Post also has a printing plant in a separate building on State Street.
The Post still has a handful of seasoned journalists on staff but they are often spread thin juggling news coverage in different towns as the paper builds a growing on-line news presence to complement hard copy editions.