The board of directors of CT Humanities has awarded more than $200,000 in supportive grants to Bridgeport's arts and cultural organizations from the CT Cultural Fund approved by the Connecticut General Assembly and Governor Ned Lamont.
Roughly $8.5 million has been awarded to 723 non-profit organizations in Connecticut.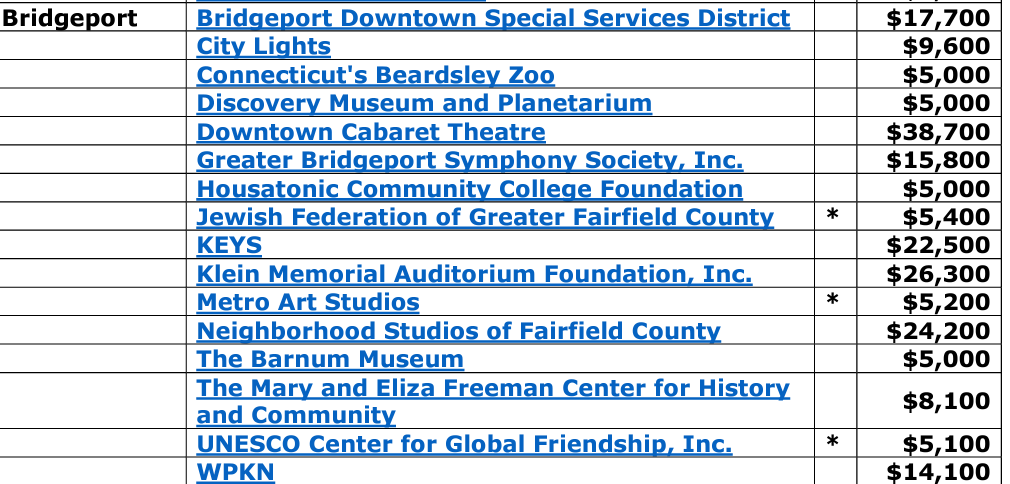 News release from CT Humanities.
"Through this investment, Connecticut's leaders recognize the integral role arts and culture play in our state's economy, in the lives of our residents, and in making our communities thriving places to live and work," states Dr. Jason Mancini, executive director at CT Humanities.

Via the public/private partnership between CTH and the Connecticut Office of the Arts (COA), Department of Economic and Community Development, CCF support assists organizations as they recover from the pandemic and maintain and grow their ability to serve their community and the public, connect K-12 teachers and students to strong humanities and arts content, and improve their information technology and digital infrastructure.

"The CT Cultural Fund is so much more than a cash award to Connecticut's arts, humanities, museum, and cultural sector. The fund is a statement of support by the state for the organizations that make our communities more vibrant and our economy stronger," said Elizabeth Shapiro, Director of Arts, Preservation & Museums for the state. "It's a tangible guarantee from the Office of the Arts and CT Humanities that there is a meaningful, accessible, collaborative network of wrap-around support for the sector."

According to the final reports of the 632 organizations that shared the $16.1M awarded in December 2021, 88% used the funds to hire or keep employees, 33% used it to support K-12 education, and 52% used it to improve technology and digital initiatives.

… "We know this works," continues Mancini. "With the CT Office of the Arts, CT Humanities is successfully and equitably granting dollars vital for sustaining and strengthening the state's cultural infrastructure and enhancing the quality of life for Connecticut's residents."

Through strong outreach efforts, CTH reached 14% more organizations than last year when it awarded $16M in 632 operating support grants from the CCF. Nonprofits of all sizes in 146 cities and towns and one tribal nation received awards–this includes 90% of Alliance and Opportunity school districts. Alliance Districts are school districts with among the lowest Accountability Index measure in the state. Opportunity Districts are a subset of those that include the ten lowest-performing districts in the state based on the Accountability Index.

Based on budget size and in consideration of other sources of state funding, the minimum award was $5,000, and the maximum award was $150,000. Eligible organizations included Connecticut museums and 501c3 non-profit, municipal, or CT-based tribal nation organizations that provide cultural, humanities, and arts-based projects and activities for the public (i.e., museums, historic houses, historical societies, arts organizations, cultural centers, and other organizations that offer activities like exhibitions, performances, art classes, public programs, or walking tours).

"I'm hopeful we will see continued meaningful, reliable, and equitable funding in the next biennium budget," says Frank Mitchell, vice chair of the CT Humanities board of directors. "Doing so allows organizations to dream and plan and really maximize the investment."