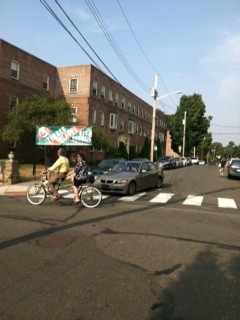 Maybe all the squawking from Republican City Council member Rick Torres about a proposed solar park is sticking to his council mates. Without drawings to eye thousands of solar panels on the old municipal dump in the west end of Seaside Park within view of Black Rock and West End neighborhoods, the Contracts Committee on Tuesday tabled voting on a lease agreement with United Illuminating to build and maintain the solar project backed by Mayor Bill Finch that calls for roughly $7 million in taxes over the life of the 20-year agreement.

Even Sue Brannelly, a supporter of Finch, backed away from the proposal without seeing renderings. Brannelly and Torres last week were engaged in testy email exchanges over Torres' opposition to the plan without additional information.
Nothing like an email thread between City Council partners, one Democrat, one Republican, in the cause of council process. Torres claims the solar field will be an eyesore for his Black Rock/West End district. Torres has made his feelings known to city officials and his own council partner Brannelly about the lack of information for the project. Brannelly lectures Torres in this engaging email exchange last week about council process. Always nice to see the love between council partners in emails.
Rick,
I would like to take this opportunity to clarify the process of how items come before the City Council. Today I am responding to your post regarding the project on the Contract Committee's agenda for Tuesday's meeting. I believe that the committee process is where all of your concerns will be addressed.

An item is presented to the City Council through the City Clerk. The item is referred by the full Council to the appropriate committee. The item is then presented to the committee in full detail until the committee and any non-committee member have exhausted all their questions, concerns, requests for additional detail, changes to language, drawings, input from the public, legal opinions, expert testimony … absolutely anything and everything that a council member requests is provided at the committee level. This process sometimes takes one meeting. This process sometimes takes months or much, much more. The item, if approved at the committee level then goes to the full Council for a vote.

When an item is presented to committee, it does not mean it is ready for a vote. The committee decides when an item is ready for a vote.

To publish your version of a project before you have heard the facts is irresponsible. To request a delay is actually to stop the information from being released to us. The City has not failed to provide anything to us. We, as a committee, have not yet requested additional information. I myself need to see and hear what is presented, then ask questions, voice concerns, request additional detail, ask for changes to language, request drawings, input from the public, legal opinions, expert testimony … absolutely anything and everything that I feel is necessary to make a decision on the item.

As I told you when we first spoke after your election to the Council, the greatest lesson I learned starting on the Council was to listen. Hopefully when you go through this very thorough committee process, you will feel that what we as a Council are deciding, whatever the outcome, is the best thing for our district and the entire City of Bridgeport.

Sue
Torres' response:
Sue,
Thanks for your letter. I'm sure that I would not have run for this position if I thought that the process which operates this city were in good shape. I understand that this body has a way of doing business. In my estimation how the city does its business is badly broken. This example which I have highlighted and you have responded to is such a broken process. A project of this magnitude ought to have several public hearings long before we are faced with a contract to approve or deny. Mayor Finch held a press conference in which he talked about it being a done deal. When I spoke to him at the swearing in ceremony he told me the deal was done and that I should move on. Well here we are, deal not done, press conference premature. God knows how much city money was spent to get to this point and I'm sure the Council did not approve of that.

Forgive me if I approach this with excess care. I want the information long before the meeting so that I may absorb it. The Lease agreement we were provided is not ready for review. It lacks too much information. There are no elevation renderings available to anyone, not you or me or the Post. Will they be there when the time comes to vote? I don't know, but I want to know.

On a separate matter, but one which highlights the same point of dysfunction, and if you follow my letters you will discover that I have requested additional information from IT as to the need for 3 copies of AutoCAD. It took a good deal of time to figure out to whom the packages belonged. Andy Nunn's office did not know; even though he sent the request out for funding. The purchasing dept. thought it might belong to Engineering. I called and sure enough they had requested two copies. Since then, I have contacted the IT dept. for clarification as to who gets the third and still after three attempts no response. Here is the problem: Each copy costs $4500 with service contracts. Engineering has two already a 2001 version and a 2008 version. They have been getting by with these. The 2008 version is still operable to new files created today. The 2001 version is probably too old, however, it has value in the resale area. The 2008 version is upgradable at nearly half the cost. In my opinion a department of our size only needs one copy that works at the best level. If we are doing the sort of work that requires two versions then truly taxes would be headed down.

So this one requisition for nearly $15K should really be $3K. the other $12K represents my tax bill at home. I would rather save that amount. By the way, the last License from AutoCAD is worth $3K on the black market. It is simply a number that can be sold and it is good indefinitely. So where is that last copy going? I would like to know.

I have no doubt that this city is in the habit of wasting massive amounts of money. That is the nature of other people's money. I walk these hallways everyday and I see the waste. It is profound.

I love you Sue and your family. I really do. This Council is not functioning well. It must. I will do my best to make it work better or else I will expose what I learn that is wrong. We do not live in a bubble here on the City Council we work for the people of Bridgeport. They must know and understand what we do and fail to do.

Back to the South End project. It is a joke. Any friend of Seaside Park would agree. To do this to this park is unconscionable and massively disrespectful to the legacy of those that fought hard to close the last abomination which was the landfill (OIB). This too is an OIB moment. Can you envision Westport or any self-respecting town to do this today? I could see at other periods of time, when there was less concern for ecology.

Let's get started repairing the past mistakes. Let's put a long-term plan to clean that landfill. On that you will have my support.

Respectfully yours,

Your friend Rick