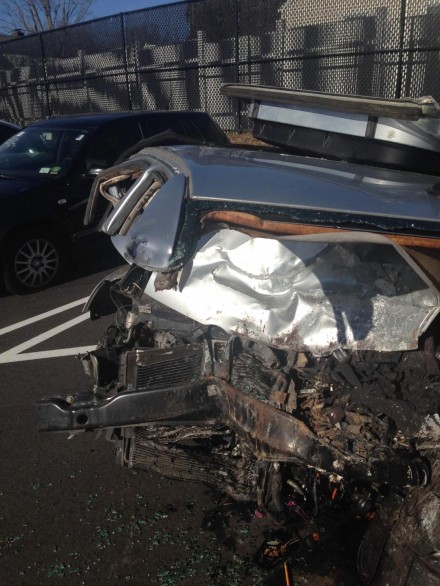 Bridgeport Police Officer John Carrano, whose wrong-way driving on Broadbridge Avenue in Stratford last Saturday morning triggered a head-on collision that led to extensive injuries to a woman, will be placed on administrative status in the records room pending an investigation by the Stratford Police Department and city's Office of Internal Affairs, according to Police Chief AJ Perez. Carrano, a member of the SWAT team, had been partying at Vazzy's restaurant with other city police officers prior to the accident.

The driver of the struck vehicle, 19-year-old Elizabeth Bucci of Monroe, received the worst of the accident her vehicle totaled causing multiple bodily injuries requiring emergency surgery. Both Carrano and Bucci were transported to the hospital. Bucci is the granddaughter of former Mayor Tom Bucci.
Stratford police officers arrived at the scene equipped with body cameras. Stratford police have not yet revealed Carrano's blood alcohol level that would have been taken at the hospital. If Carrano had been driving under the influence, something an investigation will show, it raises questions about city liability with Bridgeport police officers at Vazzy's in a position to stop him or provide a ride.
Stratford Assistant Fire Chief Steven Alesevich told the Connecticut Post that it was a head-on motor vehicle accident on the northbound side of Broadbridge Avenue between Emerald Place and Second Hill Lane where the road splits in opposite directions separated by a grassy median. The occupants had to be cut out of their respective vehicles.
Carrano, currently on medical leave from the accident, will be placed on administrative leave when he becomes available for duty.