At the Oct. 6 Zoom meeting of the City Council's Public Safety Committee, a body Maria Pereira had served on before her removal by Council President Aidee Nieves for not following council "protocol," Pereira jolted the attention of her peers in a discussion about resumption of the city's sidewalk repair program paused in early 2019 because of a federal subpoena into a contractor's work.
City lawyer Mark Anastasi asserted from his perspective there was no problem with the contractor G. Pic & Sons resuming the work. It's not like the government announces if someone is cleared of an investigation, he argued.
Still, as is her dogma, Pereira persisted, according to minutes of the meeting, declaring the investigation is not over and that she would be providing all this information to the FBI.
"She made it sound like she was working for the FBI," says Councilman Ernie Newton who represents the East End. "If I told my community I was working for the FBI guess what would happen? It's gonna make people look at her differently."
Last month, Nieves called a caucus at the Margaret Morton Government Center to discuss taxpayers covering legal expenses of outside lawyers representing municipal employees in the federal government's probe of the 2018 police chief test, something Pereira opposes.
Pereira and councilman Michael DeFilippo had been pushing for an end to that city policy. Caucuses, closed to the public, are conferences of members from one party to discuss business. Nieves requested that council members leave their cell phones behind to create a relaxed environment. Pereira's attempt to bring in her phone, presumably to record the caucus, was rejected.
"We had a meeting when we're trying to build trust and work together and we asked everyone to put their phones away," says Newton. "She was the only who didn't do it."
Nieves sanctioned Pereira for her conduct citing that incident, as well as her aggressive language and threats against her peers, removing her from committee assignments.
Fast forward to Oct. 6 and the Public Safety Committee meeting. Council members are allowed to participate in committee meetings even if they are not voting members. Pereira and Anastasi, often sparring partners at these sessions, went back and forth about the practicality of the contractor performing the work. Pereira insisted she's providing the FBI information about city projects including the Covid-delayed concert amphitheater scheduled for a summer 2021 opening.
"For her to say that, I was shocked where a colleague says I'm working for the FBI," says Newton.
Some council members, privately and publicly, wonder if Pereira is surreptitiously recording personal conversations to entice compromising information.
Denese Taylor-Moye, who co-chairs Public Safety, flat out suspects Pereira records conversations.
"I don't see why the FBI would work with her after she exposed them," says Taylor-Moye. "What is this, a scare tactic? Who is she trying to scare? If the feds allow her to do that, this is dangerous. She's not a person someone can work with. I don't want to be on a committee with her. She's an ambitious woman. Stay away from me. You're using us against us."
Taylor-Moye has a point. Whether Pereira waves pompoms to put people on notice or to peacock importance, federal investigators don't like it when the bureau becomes a public prop. It diminishes the access and information required to build cases, especially with Pereira's growing institutional knowledge of the city.
Pereira's more than happy to be a community resource for federal law enforcement investigating city maneuverings. In a city like Bridgeport federals never really go away; it's not a question of what they're investigating but how much and how deep.
Pereira has been unabashed about providing law enforcement agencies dirt on politicians she's had a falling-out with, be it State Senator Dennis Bradley or school board member Chris Taylor. She painstakingly prepares a thick, organized timeline paper trail that details dubious business relationships, public filings and clandestine maneuverings. Relentless in her hunt, she will share her findings with law enforcement and sometimes media representatives.
It's like receiving a well-researched brief that falls from the sky. Boom, here ya go.
Pereira chooses not to work professionally allowing her plenty of time dedicated to City Council duties and investigating the guys and dolls of the city.
But in her zeal, irrespective of her motivations to bring transparency to the public good, she undercuts her value by broadcasting her federal relationships, whatever they may be.
See below minutes of meeting from Oct. 6 posted on the City Council website.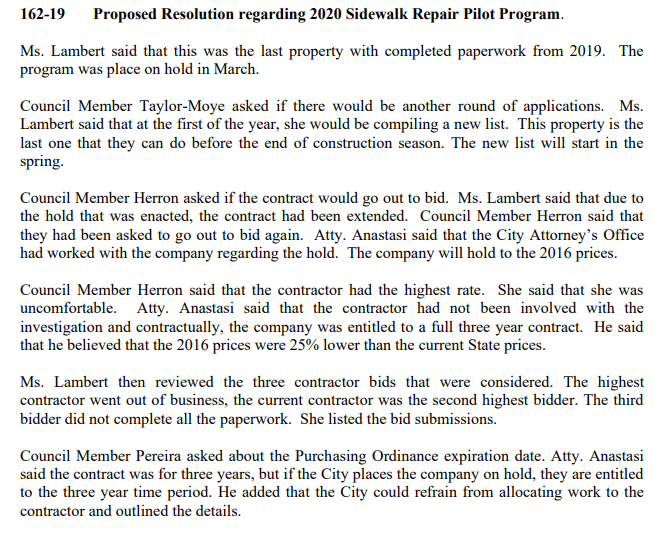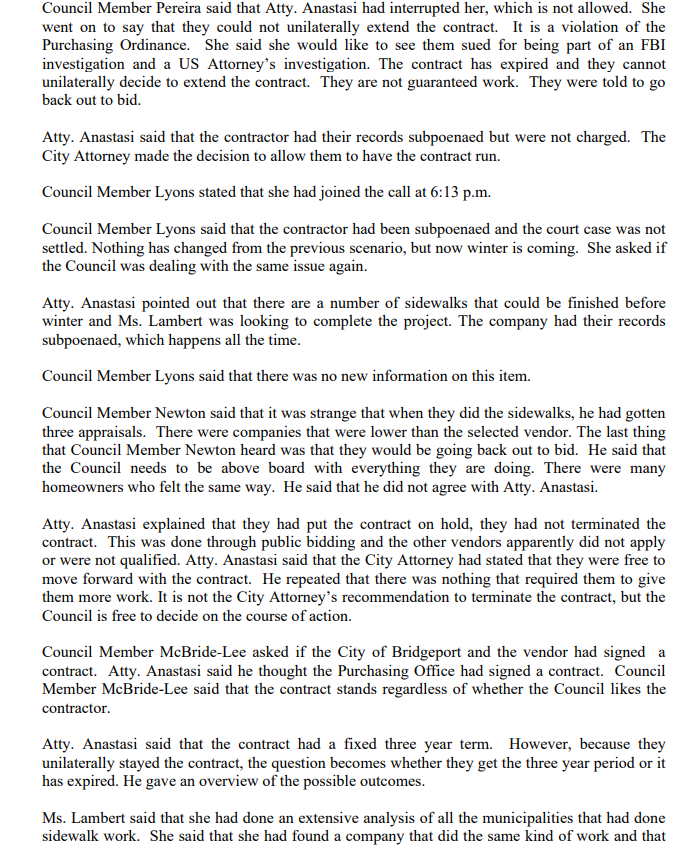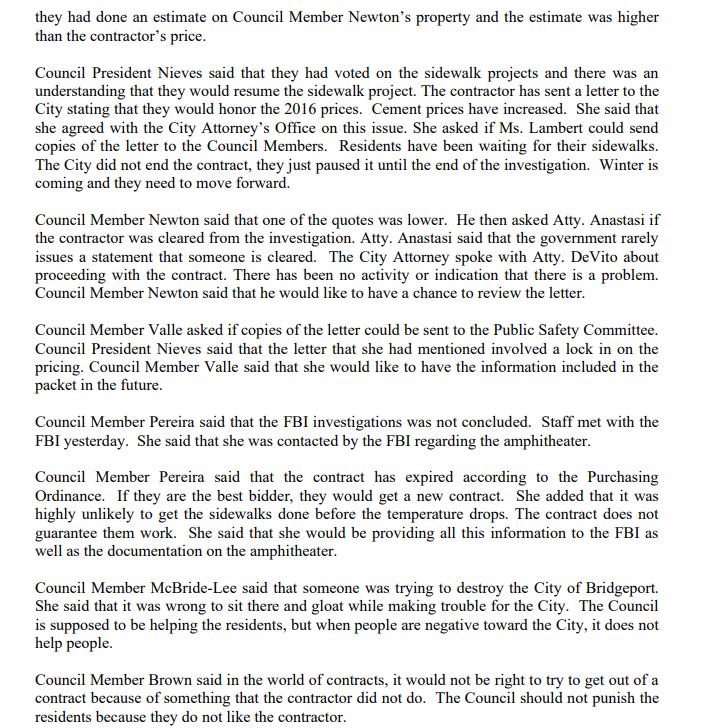 Pereira response to OIB:
The minutes you are displaying have not been approved. I never stated I was contacted by the FBI. I contacted the FBI agent that drafted the complaint against Perez & Dunn and she recommended I provide all my documents regarding the amphitheater to the FBI.

I will be meeting with an FBI agent in the next few weeks.

I cannot record any City Council member in City Council President Nieves inner circle as I do not speak with any of them except at duly noticed public meetings. I have repeatedly directed Ernest Newton not to even email me unless my colleagues are on the email and it is related to City Council matters. I have NEVER called or spoken with Denese Taylor Moye outside of City Council meetings. Therefore, it would be impossible to record those you have ZERO verbal communication with outside of City Council meetings.

I only speak with three City Council members outside of City Council meetings. None of them are Aidee Nieves loyalists. In fact, all three do not support Aidee Nieves or Mayor Ganim.

You have a responsibility to be responsible and accurate on your own blog. You should not be disseminating patently false information.
Taylor-Moye responds to Pereira's statement:
I do have text messages that Maria has sent me outside of City Council. So regarding whether she has zero communications outside of council that's not the truth, that's a lie. I did keep the text messages … and that was outside of City Council. She can rest assured that Denese Taylor-Moye has all the proof on MP about having outside communications and the things she's said in regards about other council people.