Video courtesy Jonathan Rodrigues.
In this peculiar election cycle, primary races for Connecticut legislature are in full bloom in advance of the August 11 vote.
Downtown businessman Kelvin Ayala makes no bones about his challenge of Democratic-endorsed incumbent Antonio Felipe: "I'm praying for a good weather day" so voters show up to the polls.
Take it to the bank, Felipe will win the absentee ballot count. The election pros experienced in that area are working for him.
Here's the difference from past elections, in a state governed by excuse-only absentee voting, Governor Ned Lamont and Connecticut Secretary of the State Denise Merrill are encouraging electors to vote absentee given the risks associated with the health pandemic. By Lamont's executive order any party-registered elector may vote absentee by checking the COVID-19 box on the absentee ballot application.
So for all the hullabaloo about absentee ballot practices in the state's largest city; come on in, the water's just ducky.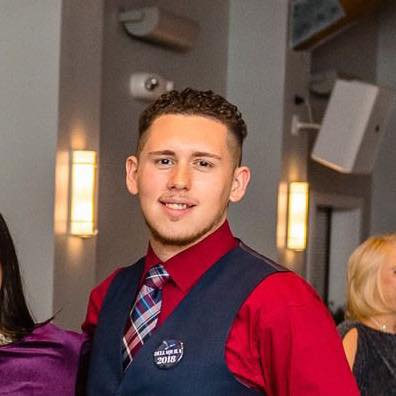 This is virgin territory in a city noted for its political infidelity. Bridgeport has had lots of practice in that area.
How many will actually vote by absentee proportional to the past?
In addition to imploring a nice weather day, Ayala's waiting word this week on qualifying for public campaign cash to fuel the final few weeks of the campaign.
On Wednesday the State Elections Enforcement Commission approved a $30,575.00 public campaign grant for Felipe. Ayala's hoping for the same.
As campaigns go, the candidates have been diplomatic on the trail, Felipe pushing assets in his district such as the boutique concert amphitheater under construction, the mixed-use Cherry Street Lofts, new Downtown housing and advancements at the Steelpointe Harbor redevelopment area. Ayala is highlighting his business development experiences as a necessity to attract more state dollars to the city.
Felipe won the seat last year in a special election following the death of veteran pol Ezequiel Santiago.
Connecticut's 130th State House District covers the South End and Downtown, but also stretches from Yellow Mill Pond on the East Side across the Pequonnock River rambling to the West End from North Avenue south to Bostwick Avenue. It can give a map reader a bit of whiplash.
Precincts are Batalla, Bassick, City Hall and Barnum.
Ayala, although a self-described non-politician, is not alien to city government. His father Manny and late brother Anderson both served on the City Council.
Most Felipe operatives supported Joe Ganim's reelection last year, most Ayala backers were aligned with his opponent State Senator Marilyn Moore who faces a primary against City Councilman Marcus Brown.
Felipe will appear on Line A next to presumptive nominee Joe Biden in the COVID-rescheduled presidential preference primary. Ayala appears on Line B next to Bernie Sanders who opted to keep his name on the ballot after suspending his race months ago. Sample ballot follows: