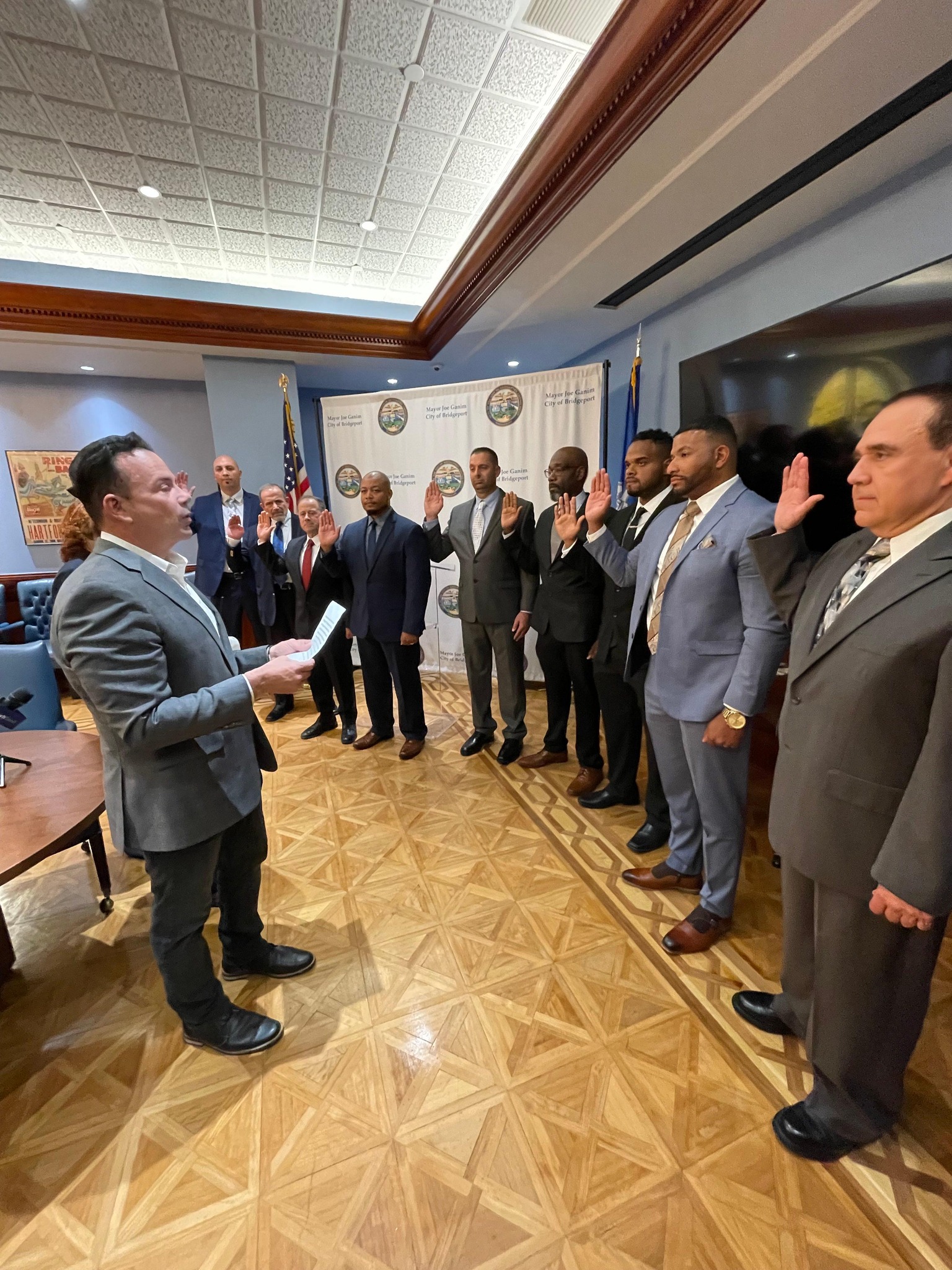 The Bridgeport Guardians fraternal organization representing Black police officers, a sometimes critic of Mayor Joe Ganim, is praising him for promoting 11 police officer to the rank of detective, including the organization's president, Davon Polite.
The news release comes at a time The Guardians executive board supports its vice president Lonnie Blackwell for chief of police. Ganim is expected to select a new chief next month among finalists Blackwell, Acting Chief Rebeca Garcia and retired Captain Roderick Porter.
The promotions became subject matter during the finalists' vetting appearance last week before the City Council with Blackwell praising the move and Porter questioning the need at this time considering the staffing shortages in patrol.

Seven of the 11 are Black and Hispanic. The eleven officers promoted: Carlos Vazquez, Jose Bahr, Robert Pascone, Phillip Norris, Jr., Victor Rodriguez, Jr., Joseph Cruz III, Alfred Cesar, Aaron Rivera, John Knapp, Davon Polite, Michael Davila.
Guardian leadership has been sharp critics of Garcia who they allege plays favorites with Hispanic officers.
News release:
The Bridgeport Guardians Incorporated would like to take this time to thank Mayor Joseph P. Ganim and Chief of Staff Daniel Shamus for promoting eleven detectives, seven of whom are African American and Hispanic these promotions are the most diverse representation of the community within the department's history.

Mayor Ganim and his administration, despite the resistance of Acting Chief Rebeca Garcia for over a year, made this happen prior to the promotional list set to expire tomorrow. This has been long overdue for the Bridgeport Police Department. Thank you, Mayor Joseph P. Ganim, for taking the steps forward to diversify the ranks within the Bridgeport Police Department to help bridge the gap of communication and representation within our great Bridgeport community.

With Mayor Ganim and his administration's commitment, he has ensured that the department is aligned with the elements of the Connecticut General Statute and the principles of the Connecticut Police Accountability Bill.

Special thanks to Bridgeport Police Captain Kevin Gilleran, commander of the Detective Bureau, for ensuring the safety of all Bridgeport residents in adamantly requesting these promotions.

Congratulations on your promotion, detectives. Courageous Bridgeport Guardian President Davon Polite and members Philip Norris Jr, Alfred Cesar, and Aaron Rivera.

Fraternally Yours,
The Bridgeport Guardian Executive Board