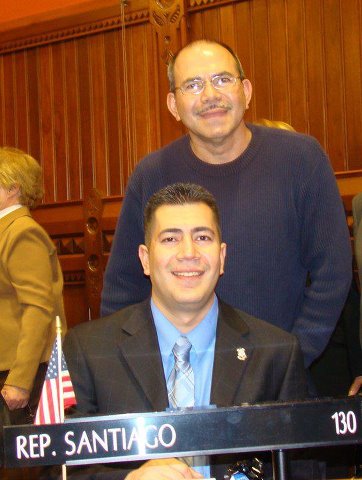 One thing is certain, no one can accuse former State Rep. Americo Santiago of inconsistency in an election year. The Bridgeport political operative will leverage any possibility to secure a payday for himself or his peeps. Anticipating Governor Dan Malloy facing a tough reelection battle, Santiago sent a message through a story in CT Latino News, with an assist from his son State Rep. Ezequiel Santiago and State Senator Andres Ayala, that Malloy needs to hire more Latinos. Translation: take care of us if you want our votes this year.

Latinos represent roughly half the Democratic registration in the state's largest city, the largest Latino voting bloc in the state, and it cannot be ignored. Problem for Latino leaders wanting to cash in a payday? Their peeps' percentage vote is still at the bottom of city demographics. The Latino vote has not escaped Malloy. Thursday night at the Bijou Theatre Malloy will attend the Latinos United for Professional Advancement (LUPA) "Here's to You" recognition event, where he will present the "LUPIAN of the Year Award" to Supreme Court Justice Carmen Espinosa, according to a media advisory. LUPA is an organization that promotes the advancement of the Latino professional community in Connecticut.
Santiago, who manned Malloy's Bridgeport campaign headquarters in 2010, is sending a message for another payday. From CT Latino News:
"The Latino and Puerto Rican Affairs Commission (LPRAC) has over 500 resumes in its databank of qualified Latinos in the state of Connecticut ready to be appointed to positions," said Americo Santiago, a former state representative from Bridgeport, "so there's no issue about having enough qualified people in the state."

"Personally, my biggest disappointment with Malloy is the fact that leadership of his administration is not reflective of the capabilities and contributions of Latinos in this state," said Americo's son, current state representative Ezequiel Santiago (D-Bridgeport). "I am part of a local organization of Latino elected officials here in Bridgeport and I can assure you that we all feel the same way," said the elder Santiago. The Santiagos' words reflected a broad sentiment among Bridgeport residents in attendance Friday night that their community has had limited access to opportunities in Hartford.
Full story here.