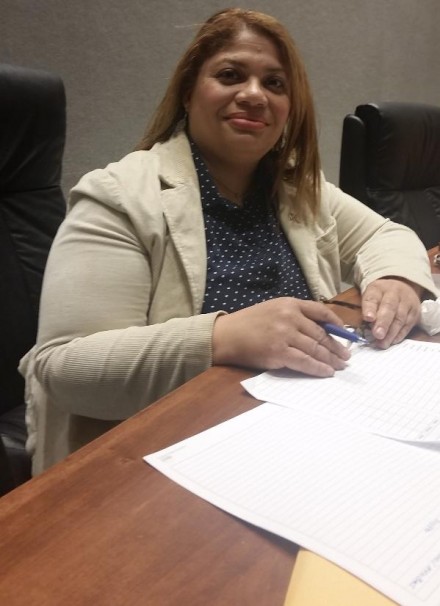 UPDATE: see council committee assignments here. Aidee Nieves, a member of the Democratic Town Committee, was elected Monday night as the City Council's first Latina president. She replaces Tom McCarthy who served in that role for 10 years. He did not seek reelection to his North End seat, but was able to cast a vote, citing City Charter, until resolution of the court litigation engulfing the 133rd District election.

Nieves was reelected to her 137th District seat last month, the East Side neighborhood that features the highest concentration of Latinos in the city. She was first elected in 2015.
Nieves received 15 votes for council president, Denese Taylor-Moye 2 votes and AmyMarie Vizzo-Paniccia 2 votes. Eleven votes are required, per City Charter, to elect a president. Jack Banta was the lone no-show.
According to her LinkedIn page she's been employed at Achievement First Bridgeport Academy charter school for 10 years.
In her first order of business she made committee assignments naming veteran Taylor-Moye and freshman Maria Zambrano-Viggiano as chairs of the key budget committee that navigates city finances proposed by the mayor.
The council president is next in line should a vacancy occur in the mayoralty.
Votes for Nieves:
Christina Smith, Pete Spain, Marcus Brown, Kyle Langan, Jeanette Herron, Tom McCarthy, Michelle Lyons, Rosalina Roman-Christy, Alfredo Castillo, Maria Zambrano-Viggiano, Aidee Nieves, Maria Valle, Nessah Smith, Eneida Martinez, Ernie Newton.
Votes for Taylor-Moye
Taylor-Moye, Mary McBride-Lee
Votes for Vizzo-Paniccia
Vizzo-Paniccia, Karen Jackson
Nieves has maintained a low-key presence on the council in her two years.
Democratic Town Chair Mario Testa had wanted veteran Jim Holloway as council president, but Holloway lost his seat in a September primary. Nieves had announced her intentions early, along with several others. She won the support of Testa, Mayor Joe Ganim and a majority of the newcomers on the council. Several of the freshmen passed on voting for Nieves in the initial vote but then acquiesced to support her without a viable alternative.
Among the freshmen councilors, Marcus Brown made a play for the top legislative spot but could not assemble the 11 votes required. He did not enter his name into nomination.