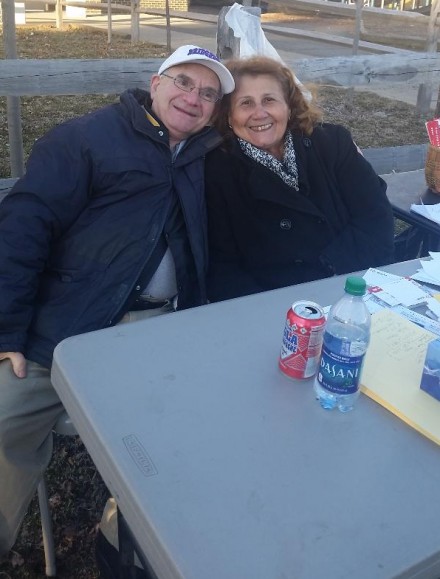 Insurgents came up well short Tuesday trying to take out seasoned campaigners in Democratic Town Committee primaries. A slate led by 138th District Leader Maria Pereira has lost all nine seats to a coalition aligned with Democratic Town Chair Mario Testa in the Upper East Side, according to unofficial returns. Testa spent most of his day in the district wooing voters at the JFK precinct. Pereira, herself, is within recount range. Two years ago Pereira's slate won all nine seats.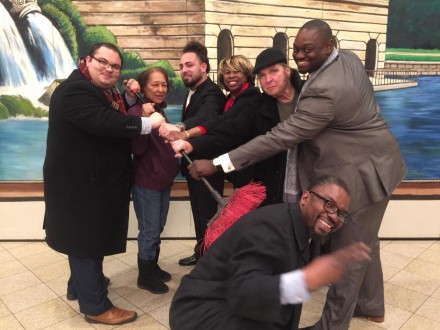 138th District slate winners Tony Barr, Tyreke Bird, Abraham Duque, Dolores Fonseca, Rafael Fonseca Jr., Kevin Monks, Anthony Robert Paoletto, Martha Santiago, Nessah Smith.
In the 130th Black Rock/West End District unofficial returns show that the slate led by Danny Roach, a city employee supporter of Mayor Joe Ganim, won a majority of the seats with former City Councilman Scott Burns the leading vote producer. While Roach's slate has prevailed one of his slate members Shaquana Shaw trails former City Councilwoman Donna Curran from completing a clean sweep of the district by four votes, according to unofficial returns. A recount will follow. So Roach's slate has taken at least eight of nine seats.
A number of voters in Black Rock on Tuesday told OIB they were turned off by the negative campaigning of the challenge slate. "Nasty," is how one Black Rock voter described it who said she was not an establishment fan but rejected the tone of the insurgent slate. Most challenge slate members performed well at the Black Rock precinct while the Roach slate ran well across the board at Aquaculture including absentee votes in the precinct. A number of voters also said they split their ticket. Electors could choose from any nine among 18 candidates.
130th slate winners in bold: Burns 607, Larcheveque 583, Cline 580, Mulligan 577, Meehan 561, Amado 559, Manzo 546, Roach 540, Curran 538, Shaw 534, Vulcano 525, Bluestein 513, Bacon 504, Valencia 504, Dwyer 498, Kennedy 490, Blake 474, Raleigh 464.
Shaw and Vulcano in recount range.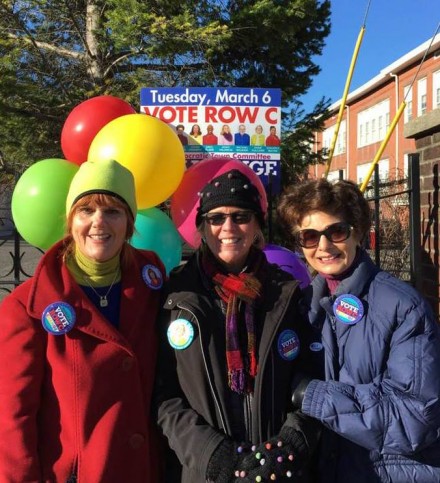 Testa and City Clerk Lydia Martinez spent primary day campaigning in front of the JFK precinct. The chairman expressed confidence before the polls closed that he'd be elected to another two-year term as party leader. He had concerns about the challenge slate's absentee ballot operation in the district. "And you talk about my absentee ballot work," Martinez needled OIB. "They've got more than we do." Turns out the absentee ballot tally was fairly even across the two slates. For Testa the primary results in general and the 138th district win in particular was satisfying given Pereira's success in the Hooker School precinct, her base support. The victorious slate defeated her at Hooker. Ganim also campaigned at JFK precinct.
In the West Side 132nd District insurgents lost all nine seats, including City Councilman Marcus Brown, according to unofficial results.
The North End 133rd District slate led by former City Council President Tom McCarthy won all nine seats, aligned with Testa.
135th District Leader Steve Nelson's slate won all nine seats.
The 131st District is a mixed bag also subject to recount. The establishment slate led by Mitch Robles, and City Council members Jack Banta and Denese Taylor-Moye, are in a tight battle for district control with a slate led by former City Councilwoman Mary Bruce, neighborhood activist Jorge Cruz and former City Librarian Scott Hughes.
What does this mean? Another two years for Testa as party leader. Within the next week or so he'll schedule a meeting of the town committee to select party officers. It was also a strong night for Ganim, a candidate for governor. Major insurgent gains would have been an embarrassment on his mayoralty as well as hurt his positioning for governor. Ganim needs 15 percent delegate support at the state party convention in May to make the August primary ballot. Testa influences the Bridgeport delegate selection to the convention and can now cut deals with other delegations around the state to try to reach the support threshold. In lieu of that Ganim can petition onto the August ballot via signatures.
The following candidates appeared on the Democratic Town Committee district ballots.
130th District, Black Rock/West End:
Slate B: Eric M. Amado Jr., Scott Burns, Joy A. Cline, Anne H. Larcheveque, JoAnn Manzo, Michael S. Meehan, Thomas A. Mulligan Jr., Daniel S. Roach, Shaquana Shaw.
Slate C: Shaurice Bacon, Gregory Blake, Lynda Bluestein, Donna M. Curran, Dione T. Dwyer, JoAnn R. Kennedy, Michael R. Raleigh, Jenny Valencia, Diane M. Vulcano.
131st District, South End/Downtown/West End:
Slate B: Jack O. Banta, Paul R. Boucher, Tommika Leak, Genoveva Miranda-Torres, Jose A. Negron Sr., Glenn Pettway, Mitchell Robles, Eric M. Simmons, Denese Taylor-Moye.
Slate C: Mdsufian Ahmed, Mary L. Bruce, Jorge Cruz Sr., Shavonne Davis, Frances Demery, Travis M. Harden, Scott Hughes, Omari O. McPherson, Melody Thergood.
132nd District, West Side:
Slate B: Carolyn D. Askew, M. Evette Brantley, Julian T. Brown, Michael D. Freddino Jr., Anthony J. Lancia Sr., John W. Olson, Elaine Pivirotto, Rolanda Smith, Reginald F. Walker.
Slate C: Lillian M. Alves, Marcus A. Brown, Rosie A. Clarke-Jones, Robert F. Distasi, Braxton T. Gardner, Antoinette Giles, Robert Halstead, Eva J. McLeod, Lisa Parziale.
133rd District, North End:
Slate B: Albertina Baptista, Michael A. DeFilippo, Patrick Gorrell, Jeanette Herron, Hernan F. Illingworth, Sabrine Kuczo, Thomas C. McCarthy, Samantha R. Nelson, Wayne Rodriguez.
Slate C: Jessica R. Allen, Sandra J. Carolina, Vincent DiPalma, Joseph Goldberg, Gail Janensch, Robert T. Keeley, Claire Mastromonaco, Anne Pappas-Phillips, Leighton O. Reynolds.
135th District: Whiskey Hill/North End:
Slate B: Robert A. Anderson Sr., Harry A. Bell, Darrett Evans Moss, Linda G. Jones, Wilfred E. Murphy, Doris R. Nelson, Stephen M. Nelson, Carmen D. Roman-Hatton, Arnold L. Whitaker Sr.
Slate C: Lisa Anderson, Audrey M. Barr, Keisha Burks, Tomeekha Gee, Warren Godbolt, Mary McBride-Lee, Waith K. Mitchell, Charlie L. Stallworth, Ruth M. Vines.
138th District, Upper East Side:
Slate B: Jacqueline Abrams, Timothy L. Bassey, Daniel C. Faber, Charles E. Hare, Sarah Lewis (not this Sarah Lewis), Helen Olga Losak, Maria H. Pereira, Michele L. Small, Samia G. Suliman.
Slate C: Tony Barr, Tyreke Bird, Abraham Duque, Dolores Fonseca, Rafael Fonseca Jr., Kevin Monks, Anthony Robert Paoletto, Martha Santiago, Nessah Smith.