Some days City Council President Aidee Nieves may feel a me-against-the-world political reckoning given she's been placed on notice by City Clerk Lydia Martinez she deserves a political lesson for not sucking up to the queen of absentee ballots.
Martinez is leveraging her serial absentee ballot voters and personal political contacts to take out Nieves, among them State Senator Dennis Bradley under federal indictment for alleged campaign finance violations and new acolyte, that old political warhorse John Ricci, former director of Public Facilities, who's on something of a jihadist campaign movement to dispatch Nieves on primary day September 14.
That's the thing about city politics: sometimes it's organic, sometimes it's by design, sometimes it's just common enemies that brings people together even when they've been on opposite sides.
Martinez has recruited Rosa Franco and Elsie Mercado to oppose incumbents Nieves and Maria Valle who represent the heavily Hispanic East Side.
Ricci, a scorekeeper, is unhappy with the way he was shown the door following Mayor Joe Ganim's 2019 reelection after serving as a key department head and campaign operative. Ricci's campaign alliances include City Councilwoman Maria Pereira, the self-styled piranha of politics, who has a reelection of her own. He has his checkbook out contributing to opponents of council incumbents he loathes. The septuagenarian is also lending his feet and voice to the task, knocking doors against Nieves in the 137th District.
Funny how this stuff works: indicted Bradley, who Ricci aptly dubbed the chameleon for how he preens anything he wants given the circumstances, is campaigning for Martinez's candidates while her flock barbecues Nieves at doors for being the spawn of Satan, or something like that.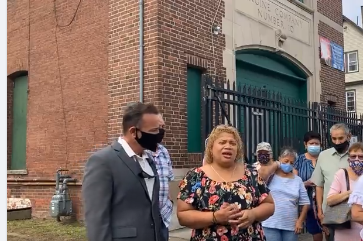 Nieves is not without her political weapons, one of them power of incumbency. On Monday Ganim joined the council incumbents to unveil a rendering of the new senior center on the city's East Side, previously Fire Engine Company #10, expected to open in 2022. Critics of Nieves assert she's not a strong enough check on the executive branch. Still, it did not stop leadership of the activist organization Bridgeport Generation Now, no fan of Ganim's, from endorsing her reelection.
This race will come down to absentee ballots, or how competitive Nieves and Valle perform in that area to the hand-picked candidates of Lydia, a campaign pro with a cache of reliable voters. When it comes to absentee ballots, there's the game within the game: poaching votes your way. Each side secures a list from the Town Clerk's Office of voters requesting an absentee ballot to persuade them to their side.

Due to the health emergency, all primary voters have received an absentee ballot application. If they don't want to show up live at polling places, they can request an absentee ballot citing Covid. These City Council races are low-turnout, personality-driven affairs. You identify your friends and urge them to vote absentee or drag them to the polls primary day.
In the case of Franco/Mercado versus Nieves/Valle the two candidates receiving the most votes go on to the general election which is an automatic win based on the political demographics of the district.
Meanwhile, keep an eye on the amount of absentee ballots flooding districts, including the 137th.
The latest lists.
See the latest AB reports