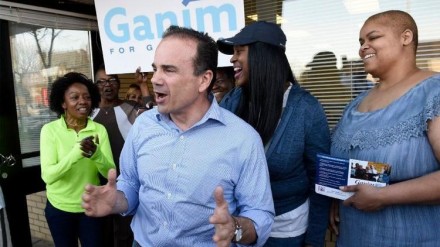 On Tuesday Mayor Joe Ganim brought his Runyonesque run for governor to Hartford where he opened a campaign office in the capital city. Hartford Courant reporters Daniela Altimari and Matthew Ormseth provide this perspective.
For Joe Ganim, the road to the governor's office–and the next phase of his redemption–goes right through Hartford.

On Tuesday, the one-time political whiz kid who served time in federal prison on corruption charges before mounting a stunning comeback and winning another term as Bridgeport's mayor in 2015, stood on a sidewalk in Hartford's North End and basked in the adulation of more than two dozen energetic supporters.

"I'm excited," Ganim said in front of his newly opened campaign headquarters on Blue Hills Avenue. "This is about as grass-roots, person-to-person, neighborhood-to-neighborhood … as you can be in a democracy."

Ganim, a Democrat, says he will try to win support from 15 percent of the delegates at the state party convention later this month, which would win him a place on the August Democratic primary ballot.
Full story here.