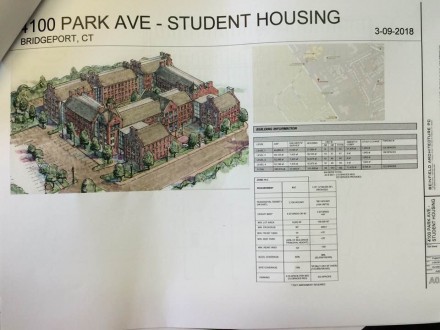 UPDATE: measure tabled. City Councilwoman AmyMarie Vizzo Paniccia was among North End residents voicing zoning opposition to this housing proposal for Sacred Heart University students on Park Avenue. She writes on her Facebook page:

This may look small in print–but this proposed development is huge.

It's a private developer's rendering for SHU housing for over 600 Students, their guests and friends of their guests. Never mind the parking and speeding nightmares. This is being heard and presented, TONIGHT, September 24, 2018, Zoning Meeting with Commissioners, City Hall, Council Chambers,45 Lyon Terrace, 6:30pm sharp!

Be there early as 1st on Agenda.

Use the front entrance at stairs/ramp.

I will be there to voice my opinions and to say no–see you there.

We've had enough of SHU's Administration and their Students being disrespectful to Bridgeport. Enough of their abusive behavior to the Property owners, littering and loitering, excessive disorderly conducts, violations to housing codes, trespassing, extensive over use to our Bridgeport Police and Fire Departments, loud and disorderly conduct, also, alcohol related events–also underage situations and the negative list goes on and grows everyday. It's time to gather and tell SHU and Bridgeport–"enough and NO!" My city cellular and email is: 203-275-6412; AmyMarie.Vizzo-Paniccia@bridgeportct.gov
She provided this update on her Facebook page:
Tabled until next Zoning meeting. There was some info stated as fact and was not. Oooops.
Now, to wait for a real traffic, engineering and accident reports. There were 3 men speaking in favor–2 big time developers and a SHU Employee.
About 15 or so folks speaking against–me included.
Then, the zoning attorney for SHU gets his chance as a rebuttal that should answer the concerns of those folks with questions that opposed–yet, he used his time for insults and bad remarks. Shameful!
The other piece is that the City Admin spoke in favor of this project–shame on them also and for never contacting me and other Council to discuss and ask about our concerns, etc.
I let them know.
My first comment out was that there was no disrespect to the Zoning attorney, the developers, their Staff and to City Admin who are doing their jobs.
My job, which is a volunteer position, is to help with my Constituents concerns and work on what's the best for my City. I'm all for development, having our tax base increase, but NOT at the expense of us with the bad behavior of the SHU Students and SHU Admin. It looked like the Zoning Commissioners were listening and I truly hope they deny this zone change–cause once it's changed, ANYTHING CAN GO WRONG.
By the way, I asked several folks tonight if the abutting homeowners received a certified letter and none have. Someone missed a step! That calls for a re-do!!!