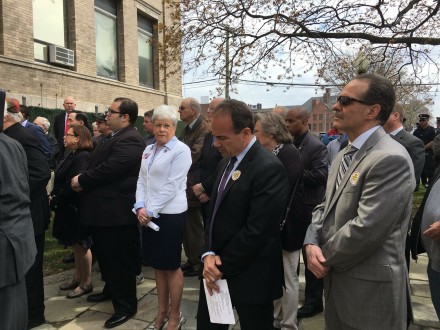 From Mark Pazniokas, CT Mirror
Lt. Gov. Nancy Wyman said Thursday she will not run for governor in 2018, ending months of personal contemplation and political calculation. Her decision deprives the Democratic Party of its highest-profile contender, while sparing it from a campaign that could have struggled to emerge from the shadow of an unpopular incumbent, Gov. Dannel P. Malloy.
Wyman, 71, is a popular figure among Democratic insiders and the winner of six statewide elections, four as comptroller and two as lieutenant governor. She said she finalized her decision Monday after months of talks with family and friends about the potential costs and benefits of trying to succeed Malloy as governor.

Her decision leaves Democrats with one declared candidate, Middletown Mayor Dan Drew, and four others who have raised significant funds through exploratory committees, but none has emerged as a front runner. With Wyman out of the race, Hartford Mayor Luke Bronin and former Secretary of the State Susan Bysiewicz are expected to take a look at running.

Bridgeport Mayor Joe Ganim, former state Sen. Jonathan Harris, and two political newcomers, former federal prosecutor Chris Mattei and former Wall Street executive Dita Bhargava, have been raising money for months in exploratory campaigns. Sean Connolly, the former commissioner of veterans' affairs, recently joined them.
Full story here.
Wyman statement:
Lieutenant Governor Nancy Wyman today issued a statement regarding the 2018 Governor's race:
I thank the people of Connecticut for having given me the great honor and privilege of serving as their Lieutenant Governor.

Four decades ago, I ran for a seat on the Tolland Board of Education to be a voice for my children. Many years later, I've been humbled and proud to serve with men and women on both sides of the aisle who were strong and honorable leaders, who did their duty in the best interests of their constituents and the state as a whole, and who helped make Connecticut a better place.

I want to thank everyone who has come forward with offers to help on a campaign–Democrats, Republicans, and unaffiliated voters from across the state. The outpouring of support has been overwhelming and humbling. I made this decision after careful consideration and discussion with my family and friends, and after my granddaughter, a freshman at college, asked a simple question, 'will you come over for dinner, Grandma?'

It took four weeks to schedule that dinner. This is not how I want to be a grandparent. I believe that family should come first.

While I will not seek election to the Governor's office in 2018, I am proud of our accomplishments on so many issues: healthcare, education, veterans' services, and human rights to name a few. I look forward to supporting the next generation as they find their voices–just as I did when I ran for the Board of Education. We have a lot to look forward to. People are organizing and standing up for what they believe in–justice, healthcare, human rights–in ways we haven't seen in decades. More women are running for office, and we see more diversity in our elected officials. These are positive indicators of an informed and active electorate.

I am deeply appreciative to Governor Malloy for asking me to run as his Lieutenant Governor. I believe that people will come to understand the truly extraordinary work he and this administration have done, underpinned by a profound commitment to the people who elected us.

They are among the many people in this state who, every single day, commit to making this a better place for everyone. I have been honored to work with them, and I will continue to support their efforts.
Statement from Mayor Joe Ganim:
Following today's announcement from Lieutenant Governor Nancy Wyman that she will not seek election for the Governor's race, Mayor Ganim stated, "I appreciate Nancy's commitment to serve Connecticut residents, and her decision to now put her family first. It has been a pleasure to work with Nancy. She has a been a friend to us in Bridgeport, and all of us in Connecticut. Nancy Wyman has been a trailblazer, advocate, and leader for many years. Nancy broke the barriers in our state as a pioneer for women in politics as the first woman in Connecticut elected to the position of State Comptroller, and the first for women and Democrats, as the first female Democrat Lieutenant Governor. We thank her for her dedication and leadership."