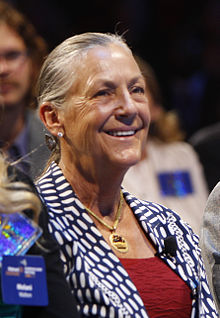 A $100,000 donation to a Connecticut political action committee from Alice Walton, daughter of WalMart founder Sam Walton and richest woman in the world, is bolstering independent expenditures on behalf of legislative candidates supportive of charter schools including Democratic-endorsed Dennis Bradley seeking the open seat in Connecticut's 23rd State Senate District. He's challenged in the August 14 primary by Aaron Turner, former legislative aide to incumbent Ed Gomes who's retiring when his term ends.

Bridgeport political operative Claudia Phillips is treasurer of Build CT that received a $100,000 contribution from Walton on July 16, according to a report filed with the State Elections Enforcement Commission, see here. Curiously, an amended report lists Walton as a self-employed philanthropist after listing her as a WalMart executive.
Bradley's fidelity to the anti-charter school movement has been challenged by school board member Maria Pereira who supports Bradley's opponent Turner. School board candidates Pereira and Bradley ran on the same line with Joe Ganim when he returned to the mayoralty in 2015 with Bradley receiving the endorsement of Connecticut's Working Families Party in part over his perceived opposition to expansion of charter schools. Both were supporters of Ganim in 2015. Bradley continues to back Ganim while Pereira's had a falling out with Ganim over education issues. Bradley and Pereira are no longer buds either and have butted heads often at Board of Education meetings. The Working Families Party has endorsed Turner this cycle.
The charter school movement has taken some hits in recent years following pushback from education advocates such as Pereira who argue charters suck financial oxygen from local school districts and lack necessary oversight. Charter schools receive public dollars but operate independent of traditional school districts. Supporters of charters such as school board member Jessica Martinez argue passionately they serve a valuable alternative for children and school parents. Martinez is Bradley's campaign treasurer. Bridgeport has six charter schools, more than any other municipality in Connecticut, that have advanced during Governor Dan Malloy's nearly eight years as governor.
WalMart has spent a fortune around the country in support of school choice and charter schools. Some recent Bridgeport political campaigns have been neck deep in independent expenditures that may spend unlimited amounts of money in the cause of defeating or advocating for a candidate provided those efforts are not coordinated with the candidate it supports. Independent expenditures are based on a U.S. Supreme Court decision. They are perfectly legal, with a caveat. For instance, operatives for a political action committee engaging in an independent expenditure cannot share elements of the effort or strategy with the beneficiary of the campaign. Essentially, there's supposedly a legal firewall preventing it.
In Connecticut, reports about money raised and spent in support of independent expenditures must be filed with the State Elections Enforcement Commission that oversees campaign election law.
Bradley and Turner have both qualified for public dollars under the state's Citizens Election Program of publicly funded races. They have received $84,450 after raising $15,000 dollars in donations of $250 and less. So both have $100,000 to spend from their respective candidate committees. Independent expenditures add to the flow of dollars.
According to latest reports from Build CT several thousand dollars have advanced Bradley's candidacy such as canvassers, mailers, door hangers and digital marketing.
Pereira, for one, knows the impact of independent expenditures. Two years ago, a flood of last-minute spending from charter school advocates, bolstered State Rep. Charlie Stallworth who faced a rugged challenge from Pereira who came up short.
The Bradley-Turner battle is the highest-profile race in Bridgeport this primary cycle after Mayor Joe Ganim's underdog challenge of Democratic-endorsed Ned Lamont for governor.
Two weeks from the primary most political observers assert Bradley has the edge over Turner, given his higher profile, party support and campaign seasoning. The senate district covers two thirds of Bridgeport and portion of western Stratford.
It doesn't hurt, also, to benefit from independent expenditures.
And who knows, maybe an independent expenditure steps up on Turner's behalf beyond Working Families Party effort.